Washington State coach Leach says QB Connor Halliday out for rest of season with broken ankle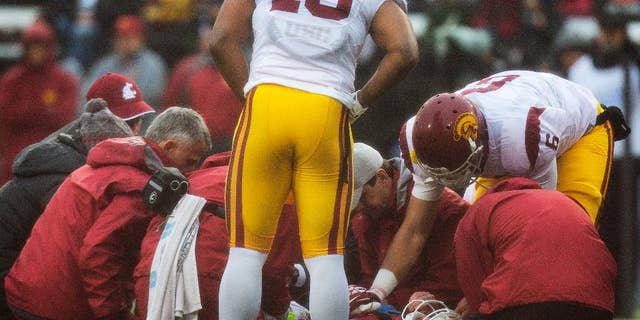 SPOKANE, Wash. – Washington State quarterback Connor Halliday broke his ankle in Saturday's loss to Southern California and is out for the rest of the season.
That's according to football coach Mike Leach on Monday.
Halliday, the nation's passing leader, broke his ankle in the first quarter of Saturday's 44-17 loss to the Trojans. The injury occurred after Halliday completed a 14-yard pass and was twisting away from USC defensive tackle Leonard Williams, who fell on Halliday's legs.
Halliday had surgery Saturday and remains in the hospital, where he is receiving a steady stream of visits from coaches and teammates.
The senior from Spokane finishes his career with 11,304 passing yards, most in Washington State history and fourth-best ever in the Pac-12.