Washington seems likely to have top tailbacks against No. 14 Arizona St; QB situation unclear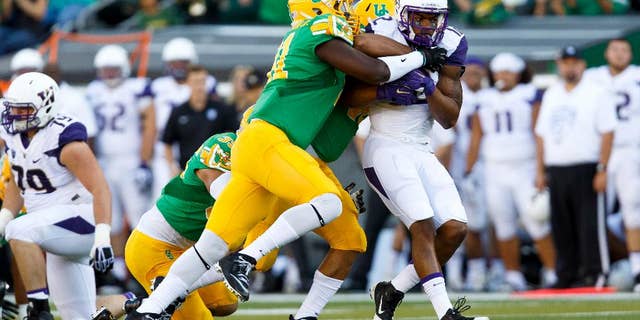 SEATTLE – The good news for the Washington Huskies is that the top two running backs on the depth chart seem to be on the right track to play Saturday, despite suffering injuries in a blowout loss at Oregon.
The encouraging news is that their starting quarterback may be available, even after dealing with concussion-like symptoms.
The bad news? There is no time for a letdown with No. 14 Arizona State visiting. The Sun Devils are fresh off back-to-back wins against ranked opponents (USC and Stanford).
Starting running back Dwayne Washington "was out there today running around there with us," Washington coach Chris Petersen said at his weekly press gathering Monday.
Petersen said Washington was still dealing with soreness from a chest injury suffered during the 45-20 loss at No. 6 Oregon on Saturday night, but he was hopeful the sophomore would be ready to play Saturday.
The Huskies entered the season with plenty of depth at tailback but left Oregon with more question marks than answers after redshirt freshman Lavon Coleman also left the game with an apparent injury. Petersen, though, was more optimistic about Coleman's status.
If those two are limited in any way, senior Deontae Cooper will be ready to step in. The fifth-year senior has had three knee injuries while at Washington, but was able to find the end zone for the first time this season against the Ducks.
"We thought we were deep at it, but we know that it's a long season and guys go down," Cooper said. "Next man up and you got to be ready to go."
Even with a full complement of running backs, the Huskies have plenty to prove. They have struggled with the ground game this year, with the problems coming to a head against Oregon, which limited them to 133 yards rushing.
"They are recurring," Petersen said of the issues. "Guys just have to play better. That's the bottom line. We've got to block better, give our backs a chance to get something done. Then when we do we'd like our backs to be able to get out and get loose a little bit. I think it hurt having Dwayne out of the mix, because he does get to the second level. He's got some pretty explosive speed and that hurt us a little bit."
Those issues pale in comparison to those that could arise if there are lingering problems at quarterback. Cyler Miles left near the end of the Oregon game due to concussion-like symptoms, and while the plan is for the sophomore to start against Arizona State, Petersen said the team will take it one day at a time.
Redshirt freshman Troy Williams, who played in relief of Miles, will still have to outplay Jeff Lindquist for the second-string role, but both could see plenty of reps this week.
"Cyler's had a lot of reps now with us," Petersen. "I think it's good sometimes when we hold out our starters when you can. We've got to pay attention to all of our starters in terms of wearing them out a little bit and keeping them fresh. It's that fine balance between giving the right amount and not too much. It's good for a backup to go . see what you've got."