Washington Redskins QB Alex Smith carted off field after gruesome injury
Washington Redskins quarterback Alex Smith suffered two broken bones in his right leg during Sunday's game against the Houston Texans, forcing him to be carted off the field with a cast on his foot.
Smith's right foot and ankle bent in an awkward direction as J.J. Watt and Kareem Jackson sacked him midway through the third quarter. Smith covered his face with both hands, then a towel as medical personnel check him out.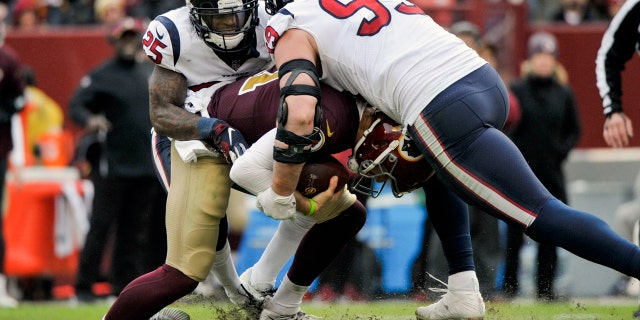 Players from both teams offered well wishes to Smith before he was taken from the field on a motorized cart. The 34-year-old waved to the FedEx Field crowd as he was driven away.
Smith's injury occurred 33 years to the day after former Redskins quarterback Joe Theismann's leg was broken on a sack by New York Giants linebacker Lawrence Taylor during a nationally televised game. Theismann, who was in attendance Sunday, tweeted that Smith's leg looked "exactly like mine 33 [years] ago," before adding: "I feel so bad for him."
Washington acquired Smith from the Kansas City Chiefs in an offseason trade. Entering Sunday's game, Smith had completed 64.1 percent of his passes for 2,045 yards as well as 10 touchdowns and three interceptions.
Washington lost the game 23-21 to fall to 6-4 on the season. Redskins head coach Jay Gruden said Smith suffered a broken tibia and fibula and would undergo surgery right away.
The Associated Press contributed to this report.