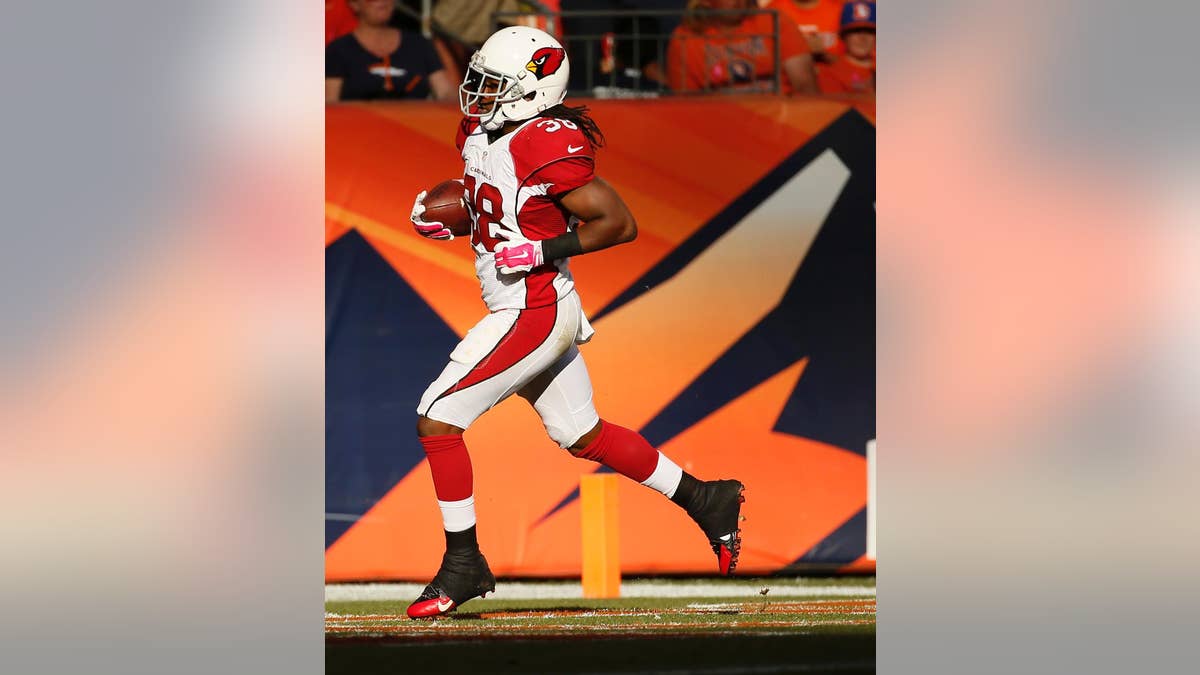 GLENDALE, Ariz. – Washington has lost 12 of its last 13 games. The Redskins haven't won a road game since Sept. 29 of last season.
They would seem to have a good chance to turn things around when they face the wounded Arizona Cardinals on Sunday.
The Cardinals (3-1) could be without their top two quarterbacks. Carson Palmer hasn't played since injuring a nerve in his right shoulder in the season-opening win over San Diego. Drew Stanton, who started the last three games, was knocked out of Sunday's blowout loss in Denver with a concussion.
If neither of them can play, the job will fall to rookie Logan Thomas, a fourth-round draft pick out of Virginia Tech. Thomas played in the fourth quarter of the 42-20 loss to the Broncos, completing one of eight passes. But the one completion, to running back Andre Ellington, went for an 81-yard touchdown.
Thomas' backup could be Dennis Dixon, signed to the Arizona practice squad on Tuesday.
Stanton led the Cardinals to wins over the New York Giants and San Francisco.
"That's what backups are supposed to do," Washington coach Jay Gruden said. "They're supposed to come in and take over the offense like nothing is different. They don't get as many reps, but they have to be prepared and they have to be ready when their number's called."
Redskins quarterback Kirk Cousins knows the backup role well. He has been on the sideline when Robert Griffith III has been healthy.
"You have to prepare like you're the starter," Cousins said. "... If you're unprepared as a backup, you'll probably never get an opportunity to start someday because you won't be ready, and you won't be able to have the kind of success you need to have to stay in this league."
Here are some things to watch when the Redskins (1-4) play the Cardinals.
ON THE RUN: Washington would love to get running back Alfred Morris back in high gear. Sunday might be the time to do it because Arizona's top run defenders, defensive end Calais Campbell and outside linebacker Matt Shaughnessy, are out with injuries.
After rushing for 1,613 yards as a rookie in 2012 and 1,275 yards in 2013, Morris has yet to have a 100-yard game. The Redskins rank 21st in rushing offense at 104.8 yards per game.
"We have a young quarterback and we're going to try to take the pressure off of him," Gruden said. "However we design our runs we're going to try to get the ball in Alfred Morris' hands, hopefully more than 12 times, and try to force our will on them."
With their quarterback woes, the Cardinals are in dire need of a better running game behind the dynamic Ellington. They rank 26th in the league at 88.5 yards per contest. Against Denver, Arizona rushed for 37 yards, averaging 1.9 per carry.
"We have to do the job collectively: tight ends, running backs, offensive line," Arizona offensive coordinator Harold Goodwin said. "Last week I think we had 12 runs of two yards or less, which is not close to being satisfactory."
HOME COOKING: Coach Bruce Arians is counting on a loud home crowd to help Arizona's offense. The Cardinals have sold out every game since moving into University of Phoenix Stadium in 2006.
Arizona is 8-2 at home under Arians, 2-0 this season.
TURNOVERS: Washington is minus-5 in turnovers, Arizona is plus-4.
The Redskins have committed nine turnovers (five interceptions, four fumbles) and their opponents have four (two interceptions, four fumbles). The Cardinals have committed just three turnovers and have yet to throw an interception; their opponents have thrown five interceptions and lost two fumbles.
Cousins threw four interceptions in Washington's 45-14 loss to the Giants.
THIRD DOWN: The Redskins rank 27th in third-down conversions (34.4 percent), Arizona slightly better, ranking 19th but against the Broncos the Cardinals were 3 for 16 on third downs.
THE DROPS: Arizona dropped seven passes against the Broncos, several of which would have been big plays. Goodwin said he'd never seen that many dropped passes in a game.
"Lack of concentration," Arians said. "Trying to run before you got it. You learn that in high school."
___
AP NFL website: www.pro32.ap.org and www.twitter.com/AP_NFL