Was 2016 the best dunk contest ever? Its winner says so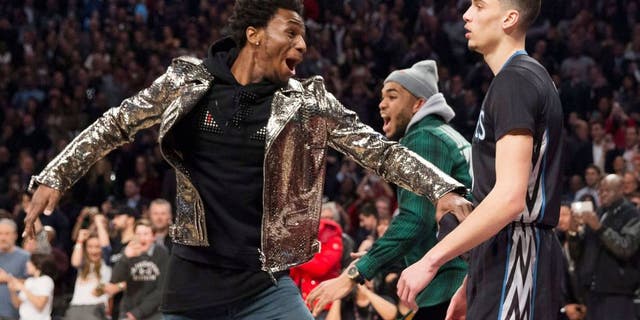 NEWYou can now listen to Fox News articles!
It may have been the greatest dunk we've ever seen, and Zach LaVine had never even practiced it before.
"I'd never done that before, and I just tried it," LaVine said of his walk-off slam from the free-throw line during the unprecedented second overtime of Saturday's never-ending Slam Dunk Contest in Toronto.
"I've got to give it up to my boy Will 'The Thrill' Barton," said the Timberwolves' LaVine, who won his second consecutive dunk contest. "It's because of him I think I won, because he said, try to go from the free-throw line."
The Nuggets' Barton and the Piston's Andre Drummond bowed out of the contest early. LaVine and the Magic's Aaron Gordon apparently wanted to stay all evening. Unfortunately, when you prepare only four dunks for a contest that's supposed to go only four rounds, tacking on another two can be reasonably overwhelming.
Gordon was understandably drained of inspiration after his second-place finish. "I don't know how many more I've got," he said when asked about a potential return trip to the dunk contest next season. But that's the kind of thing that happens when you make history.
Double-overtime had never happened before in a dunk contest. Six consecutive perfect scores (earning 10s from all five judges) had never happened either. Now, both have, and it's in large part thanks to Gordon -- although an earlier finish would have been fine by him.
"I was just hoping Zach was going to miss, and it wasn't going to happen," Gordon said. "You could see my facial expressions when Zach dunked it. It's like, OK, that's a 50. Like, I know we're going to have to dunk again."
It was Isner-Mahut, with rackets and nets exchanged for rims and ... well, nets. It wasn't going to end unless judge Shaquille O'Neal -- harsh enough to give out some previous unpopular "9s," helping LaVine and Gordon get 49s instead of 50s on their ways to the finals -- reverted back to his early evening ways. O'Neal made Simon Cowell look generous early. But the two finalists elevated to such sovereign levels by the end that he adapted Paula Abdul's ways quickly.
Eventually, Gordon fell in the second OT period. His score of 47 on an improvised over-the-head, below-the-legs dunk couldn't hold up to LaVine's 50 finisher from the charity stripe. That ultimate slam from LaVine came just as it seemed even he might be out of ideas.
"At the end of the day, we both didn't have dunks," LaVine said. "He was trying to throw it off the shot clock. He was like, I've never tried that before. We were looking in our bag of tricks. Ain't nothing left. I just found a little piece of dust."
Still, LaVine dunked three times from the free-throw line, including once on a one-handed, alley-oop finish from NBA vet and noted lob tosser Andre Miller. Gordon's dunks were right there with his, though.
The Magic forward got the crowd going early when he invited out his team's mascot, Stuff the Magic Dragon. He approached the furry, shamrock creature from behind, leapt over all 7 or 8 feet of him and finished. The Toronto crowd roared.
"Me and him are now like best friends," Gordon joked. "Me and Stuff."
It wasn't even his second-best dunk of the night. It wouldn't have been LaVine's third-best.
"Everybody's probably going to say something about Mike and all them and Dr. J, but in my personal opinion, man, we did something nobody else did," LaVine said when asked if he had just participated in the best dunk contest ever. "Like half the dunks we did were like professional dunker dunks, and it takes them four or five times to try it and make it. And we did it on the first try. It was crazy. In my opinion, yes."
Even the oft-gimmicky props -- like Gordon using the second cousin of the Philly Phanatic, who stood on a hoverboard -- had their purposes. Try to imagine this dunk contest without a spinning Stuff as Gordon flew past him to grab the rock with one hand and finish his third meteoric terminus of the night. Not quite as awesome, right?
LaVine took the other side. If the people who are nostalgic for the old ways of the dunk contest, for the times before there were props and overly flashy personalities weren't impressed by LaVine, the now repeat champ, then there's nothing that can outdo M.J.'s and Dominique's epic 1988 battle in their minds.
For the second straight year, LaVine didn't pull out any toys. He just dunked. Then dunked again. And again.
"It could have gone either way," Gordon said. "Zach's an incredible dunker. He went through his legs from the free-throw line. That's insane. So off that dunk, you've got to give it to him."
He went from the foul line during each overtime period. He placed a score of 50 five times. Whether Gordon was throwing the ball over his head and down to his knees on the same slam or firing over a jolly, green mascot, he was matching -- up until the very end.
"He came with something that no one else had done," LaVine said of Gordon's spectacular performance. "He did two dunks that were just crazy with the mascots, jumping over them. We just kept pushing each other until the last dunk."
As for LaVine, he doesn't think repeating as slam dunk champ is the end of him at All-Star Weekend.
"I want to do it all," he said. "I've got the Rising Stars, the Slam Dunk."
That leaves the Skills Challenge, Three-Point Contest and actual All-Star Game for the cycle.
"I've got three more left," he surmised. "I'm going to try to get them."