Warriors' Stephen Curry questionable for Friday's game in Portland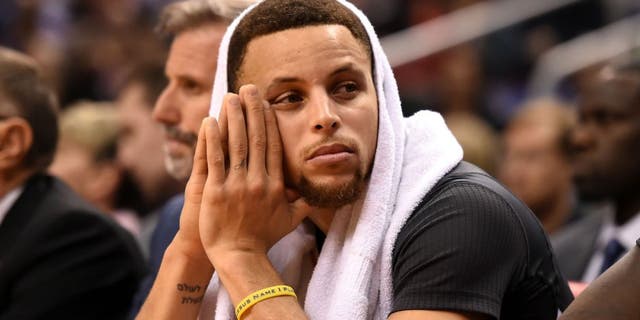 Golden State Warriors star Stephen Curry is listed as questionable for Friday's game against the Portland Trail Blazers at the Moda Center, according to Inside Bay Area.
Though Curry publicly expressed his intent to play through his left shin injury -- an injury that Curry said could keep him out for four weeks -- Warriors general manager Bob Myers says he's considering being cautious and resting Curry now that his shin has been kicked for a third time in three days:
That line of reasoning totally makes sense. While the Warriors would love to break the 1995-96 Chicago Bulls' 72-10 regular-season record, it will be all for naught if Curry isn't healthy for the playoffs and they can't defend their championship. A short-term sacrifice could pay dividends in the long run.
Myers said he iterated that point to Curry after he banged legs with Los Angeles Lakers center Roy Hibbert in the third quarter and missed the rest of the second half of the team's win on Tuesday.
Curry had actually been making progress with his shin injury heading into the Lakers game, according to Myers. He will now increase the padding on his shin, which was originally bruised on Dec. 28.
One thing that could work in Curry's favor is that he's seen a specialist and it was determined there these is no long-term risk if he continues to play with his current injury. If this were a different injury -- or if the shin were more seriously injured -- then Curry would almost certainly have to miss time.
And with the way the 33-2 Warriors are rolling right now, who could possibly want that?