Warriors-Spurs matchup sets local, national TV viewership records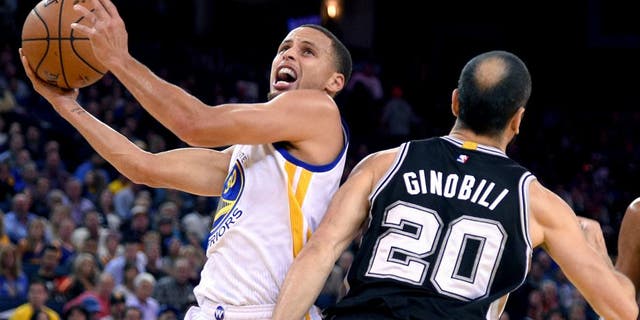 Monday's matchup between the Golden State Warriors and San Antonio Spurs was one of the most hyped regular-season games in NBA history. Even though the on-court product ultimately didn't live up to expectations -- with the Dubs routing the Spurs, 120-90, in a surprisingly lopsided affair -- the off-court ratings proved just how highly anticipated the contest was.
According to the San Francisco Chronicle, Comcast registered its highest-rated game telecast in the network's history (a 16.08 household rating). At its peak, the game posted a 17.24 rating, which far eclipsed the previous high (11.83) when the San Francisco Giants clinched the National League West against the San Diego Padres on Oct. 3, 2010.
But the success didn't just come in the form of TV ratings -- it was also a monster success digitally.
Comcast SportsNet Bay Area Digital set a network record with 2.9 million minutes streamed of gameplay as well as 66,000 live starts. People really, really wanted to this game.
And not just in the Bay Area.
Nationally, the contest broke even more records.
The game appeared on NBA TV -- not TNT or ESPN or ABC -- and generated an average of 1.4 million viewers, making it NBA TV most-viewed game ever, which includes regular-season and playoff games. The matchup peaked from 8:15 to 8:30 p.m. PST (think mid-to-late second quarter) with an average of 1.7 million viewers.
The previous record was slightly under 1.1 million views for Game 6 of the first-round series between the Atlanta Hawks and Indiana Pacers in 2014.
Unfortunately for the record number of viewers, this game was a dud. But the Spurs have three more shots at revenge in the regular season, and one has to think at least a couple of those games will come down to the wire.
Jovan Buha covers the NBA for FOX Sports. Follow him on Twitter at @jovanbuha.