Warriors rule out Kevin Durant for Game 2 with leg injury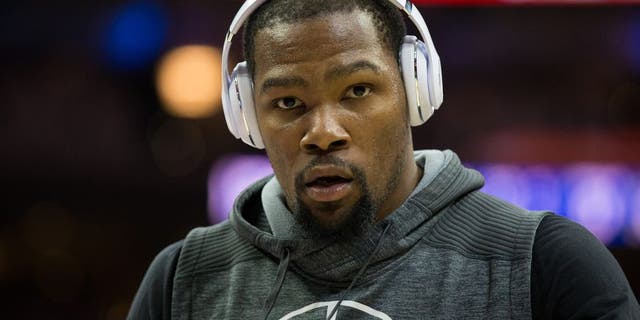 NEWYou can now listen to Fox News articles!
The Golden State Warriors will be without their best player for Game 2 against the Portland Trail Blazers.
Kevin Durant was ruled out for Wednesday's game with a left calf strain, as first reported by ESPN's Marc Stein.
The Warriors initially listed Durant as questionable on Tuesday, when the 28-year-old missed practice. Coach Steve Kerr told reporters before the game the Warriors would be without reserves Matt Barnes and Shaun Livingston, as well.
Golden State won Game 1 behind a huge effort from Draymond Green, an individual performance that cemented the Warriors' status as NBA title favorites.
The question for Golden State moving forward is how much rest to give Durant. That will depend on the severity of his strainand how quickly he recovers, of course, but the Warriors could be extra cautious after an injury to Stephen Curry helped derail their 2016 NBA title hopes.