Warriors rule out Kevin Durant and Steve Kerr for Game 3 vs. Blazers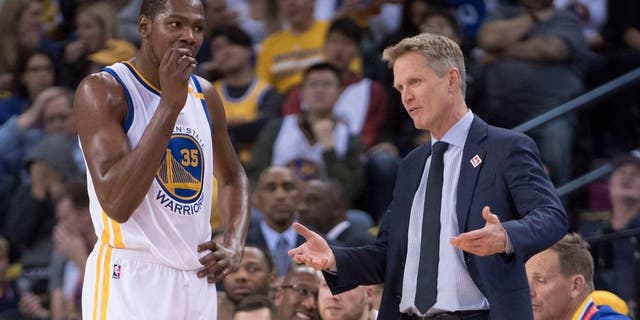 NEWYou can now listen to Fox News articles!
The Golden State Warriors are without both Kevin Durant and Steve Kerr for Game 3 of their first-round series against the Portland Trail Blazers.
The team announced Kerr would not coach due to an illness, with assistant Mike Brown serving as acting head coach. The Warriors did not elaborate on the nature of Kerr's illness. Golden State also ruled out reserves Matt Barnes and Shaun Livingston.
Durant is recovering from a left calf strain he suffered in Game 1. He practiced on Friday after sitting out Game 2 in Oakland, and Kerr told reporters the decision was largely precautionary (via The Mercury News):
Look, if it was Game 7 of the Finals, (Durant) could play, Kerr said. Were not talking about something that could damage his career. What were talking about is something that if it potentially gets worse and knocks him out for a few weeks, its not worth it.
The Warriors were 15-4 without Durant in the regular season, including a 14-game win streak in March and April.He suffered an MCL sprain and bone bruise in his left knee during a late February game against the Washington Wizards.
Portland big man Jusuf Nurkic, who was diagnosed with a non-displaced fracture in his right leg in late March, was listed as doubtful for the Blazers, although he did warm up prior to the game:
Golden State leads the series 2-0 entering Saturday's Game 3 in Portland.
Troy Taormina-USA TODAY Sports | Troy Taormina