Warriors just set record for longest playoff win streak in history of pro sports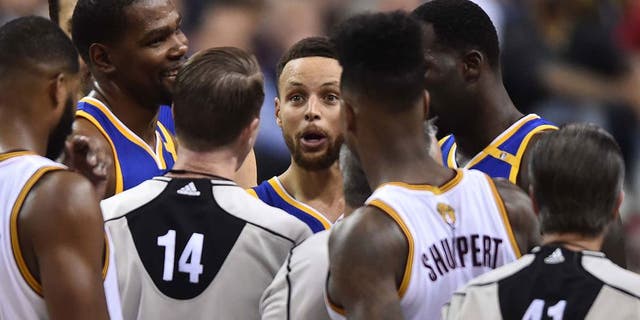 NEWYou can now listen to Fox News articles!
Kevin Durant hit a go-ahead three-pointer 45 seconds left as the Golden StateWarriors beat the Cleveland Cavaliers 118-113 in Game 3 of the NBA Finals on Wednesday night, setting a record for longest playoff win streak in the history of the four major pro sports.
Golden Statewon its 15th straight playoff game to move within one win of the first perfect postseason in NBA history. The Warriors had been tied with the Pittsburgh Penguins for the longest streak, according to FS1 research staff; the Pens won 14 straight during the 1992-93 Stanley Cup playoffs.
Durant scored 31and Klay Thompson 30 for the Warriors, who blew a 3-1 Finals lead to the Cavs last year but can clinch their second championship in three years with a victory Friday night in Cleveland.
LeBron James scored 39 points and Kyrie Irving 38 for the Cavs, who gave up an 11-0 run to end the game and now are tasked with becoming the first team to rally from a 3-0 deficit to win the Finals.