Warriors beat Cavaliers in Game 5 to win 2017 NBA title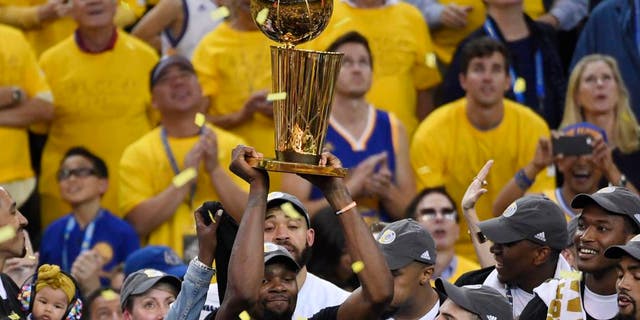 NEWYou can now listen to Fox News articles!
The Golden State Warriors are the 2017 NBA champions.
The Cavaliers battled from 17 down in the first half to pull within three in the fourth quarter, but the firepower of the Warriors proved to be too much in Golden State's 129-120 Game 5 victory.
Kevin Durant finished with a team-high 39 points on 14-of-20 shooting, and was named Finals MVP. LeBron James led all scorers with 41points, 13 rebounds and eight assists.
The Cavaliers put up a fight for the first quarter-and-a-half or so thanks to some early foul trouble for both Kevin Durant and Klay Thompson, which forced Steve Kerr to go with some questionable lineups. Kyrie Irving and James each had 12 in the opening period, and Cleveland led 37-33 after one.
The Warriors bounced back in a big way midway through the second, however, once they could get their stars back on the floor all at the same time. Golden State put together an incredible 28-4 run over a seven-minute span to take control, while building a lead they'd never relinquish.
Stephen Curry finished with 34 points and 10 assists for the newly crowned champs. Andre Iguodala finished with 20, and Draymond Green added 10 points, 12 rebounds, five assists and a couple of steals.
J.R. Smith shot 7 of 8 from beyond the arc to finish with 25 points for the Cavs. Tristan Thompson played his best game of the series, and finished with 15 points and eight rebounds. Irving was tough to contain off the dribble as usual and finished with 26 points.
Durant was vilified for his offseason decision to join a historically great Warriors team in free agency. There's no debating that choice now, and KDdid a lot more than just ride a bandwagon -- he put his new teammates on his back, and led them to an NBA title.