WALTRIP: Talladega Nights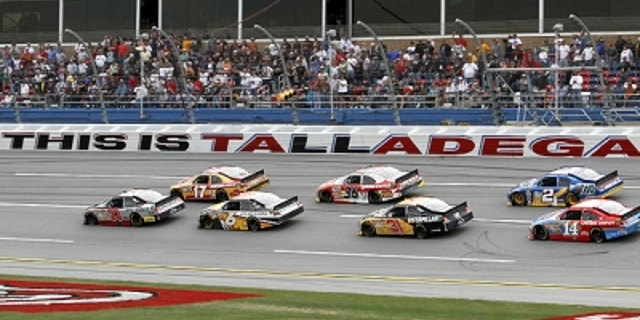 No, no, no folks, Talladega is not run at night. But it will keep you up at night, I promise you.
Why? A number of reasons. This race and this track, more than any place we go, can be defined in a million ways — some call it a crapshoot, some call it a chess match, Tony Stewart once compared it to playing checkers, it's a wild card, it's The Big One — there's just so many ways to try explaining what goes on at Talladega.
That's what drives crew chiefs and drivers crazy.
There are two strategies at Talladega, and we've seen them time and time again. One strategy is that you start up front and you stay up front. If you can do that, that's a great strategy, but it's almost impossible to stay in the front of the pack all day — you're going to get shuffled out of that lead pack and find yourself in the middle of a pack in the eye of the storm. The other strategy is to ride out in the back until the final laps of a race.
When you're right in the middle of all the cars, you feel all the turbulence of all the cars around you and it can make your car go places where you really don't want it to. It's hard to see on television, but these cars are in a constant motion from left to right. It's minor, but inside the car you are doing a lot of steering — even on a straightaway.
Guys are telling me these cars are hard to drive in a straight line going down a straightaway and when they are in the corner the car is sucked down to the track — it's got some downforce on it. So at a track like Talladega with a lot of grip, it's sticking to the track in the turns. Then when it gets up on the straightaway the back of the car gets light. So when you have someone behind you pushing you, like what happens at Talladega, that's when your car is the most difficult to control.
Something to observe on race day Sunday: At every racetrack except Daytona and Talladega, teams work the car so the right rear quarter panel is out in the air as that creates a bunch of downforce and sideforce. But watch these cars Sunday because the cars are kicked to the left and the left rear of the cars will be kicked towards the infield – that's to take air off the right side and off the spoiler giving it a little less drag and a little more speed. The spoiler is like an air brake, the more of it you can get rid of or hide, the faster you are going to go.
Back to the dilemma: Do you run up front or do you run in the back? I've talked to a number of crew chiefs and drivers, and I've got to tell you I've stayed awake wondering what I would do myself. I think I would fall to the back of the pack — but, let me just say, I would only do that if I had either teammates or fast cars that would do it with me. You need at least two other guys — but likely three or four — if you are going to do that. And you've got to be committed because just being at the back of the pack won't do it because there could be an accident right in front of you and you can't slow down in time to avoid it.
That's the other problem you have. How far back can you get? If you get too far back and lose the draft of the big pack, you're going to get lapped in about 20 or 30 laps. I don't care if you have buddies back there with you, the big pack of cars will be quicker than you are. So it's a crapshoot.
So do I go hang out in the back and try to avoid accidents or do I just say to heck with it, drive with reckless abandon like I do every other week and try to stay up front? I think my strategy is to fall to the back with some buddies and observe.
These races are always predictable — you can tell when something's about ready to happen. When the eye of the storm starts moving around and everybody gets antsy, cars start shuffling and get loose and somebody bumps somebody. That's when you've got to get out of there because there's about to be a Big One.
Strategy-wise, what do you do? Run up front and stay up front. Go to the back, and go to way back. And if my strategy is to race in the back, I would make sure to start at the end of the pack. Heck, I'd miss the driver's meeting if I had to or do something else so I didn't have to start up front.
You don't want to change strategies throughout the race. Stick to your plan and don't change it halfway through the race.
Think about it this way: If you didn't like Dover with all the strategy taking place as teams tried to figure out how to stretch their fuel last weekend, you're not going to like Talladega.
Look what happened to Jimmie Johnson last week. He had to slow down at the end of the race and went from the lead to fourth just so he could finish the race. That same strategy will work at Talladega. You're going to have to go to the back, run a conservative race, and you're going to have to try to get out of Talladega with a top-10 finish.
If championship leaders Brad Keselowski, Jimmie Johnson, Denny Hamlin and Clint Bowyer can get out of Talladega with a decent finish then this championship is pretty much decided. If they all crash out or if they all have trouble, well hello Jeff Gordon and other drivers that are far behind in the standings as the race will allow them to catch up and offer them a glimpse of hope.
It's going to be interesting, it always is. I don't envy anybody at Talladega — driver or crew chief — because this race will keep you up at night and you're going to have a couple of long Talladega Nights.
Oh, by the way
When I think of racing, I always think of music and what song describes the racing that's about to be run.
For Talladega, I kinda like "Love the one you're with." You have to pick a dancing partner and try to stick with them as long as you can. Sure, at the end of the day it's every man for himself, just like you saw with Jeff Gordon and Trevor Bayne last year but you have to make your best move and go with whoever can get you the best finish.
And the other song I'm thinking of is "I hope you'll dance." If you do get with somebody, especially late in the race, you sure hope they'll dance with you.
Then of course, there's always the theme from Jaws: Da-da, da-dum … then it gets louder, and louder, and louder.
Good night, everybody.