WALTRIP: I've Got Some Good News, Some Bad News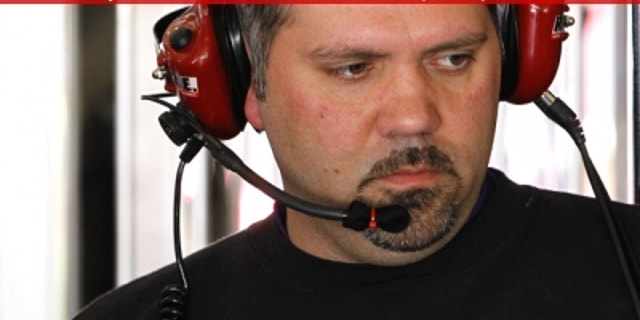 Boy, has it been a busy week since last Sunday at Kansas Speedway.
It sure looked like Martin Truex Jr. was going to get his second NASCAR Sprint Cup victory of his career Sunday and first one driving for my brother, but that No. 11 car of Denny Hamlin had just a little bit more for them.
As well and as consistent as the Truex team is running, everyone agrees it is not a matter of "if," it's only now a matter of "when" he drives back into Victory Lane.
Speaking of that No. 11 car, I am not sure what Hamlin and crew chief Darian Grubb did to that Toyota late in the race, but that thing took off. They were able to chase down Truex and pull off the win. Yes, I am very, very biased for the obvious reasons, but that No. 11 has now won 199 times, making it the winningest car number in NASCAR Cup series history. It broke the tie with Richard Petty's No. 43.
So it broke that tie but joined in another one. Don't forget, those "200th Win" hats that Hendrick Motorsports have been trucking around each weekend are getting really dusty. So one of the new storylines folks are talking about is whether the No. 11 will reach 200 first or will Hendrick Motorsports. So, with Hamlin racing this weekend at his home track, plus coming off a win the week before driving my old No. 11, guess who I putting my money on?
The other storyline that the fans ask and talk to me about is the one concerning both Hamlin and Tony Stewart's teams. Winning at Kansas put the Hamlin/Grubb duo at two wins for the season, which is the same amount of wins Stewart and Steve Addington have. The numbers are pretty astounding once you stop and break them down. Since Grubb won the championship with Stewart last year, people are watching that comparison.
There have been eight NASCAR Sprint Cup races for points this season. Like I said, Stewart has won two and now Hamlin has won two. Stewart's teammate Ryan Newman has the Martinsville Speedway win and that adds up to five wins by two organizations in only eight races. That's pretty dominant, in my book.
The other interesting thing this week is the repaving going on. We knew the race Sunday at Kansas was the last one on that old surface. It's already being torn up, and a new surface with progressive banking will be added in time for the fall race. At the same time, Bristol Motor Speedway is working to eliminate its progressive banking in time for its fall race.
I think the plan for Kansas will go a long way in making it resemble both Las Vegas Motor Speedway as well as Homestead-Miami Speedway. Goodness knows we have seen some great racing at those two tracks, so I am excited to see how things turn out when we go back to Kansas in late October.
The next stop now is Richmond International Raceway. For those fans who have been complaining about there not being enough wrecks and cautions the past few weeks, get ready. I guarantee you there will be sparks flying at Richmond on Saturday night — literally, as well as figuratively.
Richmond has somewhat turned into a little Talladega Superspeedway. The past couple years, we have seen that third turn create a lot of havoc. So much so, we've actually started using the term "the Big One" there because of the number of cars that have been all wadded up. There's absolutely no reason to believe the guys won't be up on the wheel and really aggressive Saturday night.
That's the beauty of being back on a short track. You can drive a little harder. You can push a little more. You can be a little more aggressive and mostly get away with it. Plus don't be surprised if you see a grudge or two flair back up because short tracks are great places to pay someone back for some transgression from the past.
Hopefully, Mother Nature won't decide to be a player in the racing Saturday night. When I was reviewing the statistics from our first eight races and then looked at the weather forecast for Saturday night, it dawned on me that the weather sure has been a factor this year more than ever.
Go clear back to February and the start of our 2012 NASCAR Sprint Cup season. The Daytona 500 was rained out for the first time in its history and was run under the lights on Monday night, which, quite honestly, was really an exciting moment in the history of our sport. The majority of the crowd stayed over to attend the race and, for us working in TV, we saw Monday night racing draw a really great audience.
Trust me, it got a lot of folks thinking about the possibilities of what a weekday race might be able to do for the sport.
Naturally, I am not implying it's something that should be looked at for every week, but it sure opened some doors and eyes of some fun, unique possibilities for the future. You can't sit still. You have to evolve. I always say, "Nothing is going to change until something changes." What we saw with Monday night NASCAR racing sure does offer up some fresh, exciting possibilities for our sport.
Mother Nature seemed to step out of the picture at Phoenix. Then, the third race of the season at Las Vegas went off without a hitch. Well, guess what? Mother Nature then decides to step back into the picture in a big way.
At Auto Club Speedway in Fontana, you didn't see these guys racing one another, basically. You didn't see them racing the track like they do at Darlington Raceway. They simply were racing the weather. The goal simply became beating the rain to the halfway point of the race.
For you newer NASCAR fans, once a race reaches halfway, it is considered an official race and can be stopped and called off for issues like rain.
So that affected how the guys drove. The race at Texas Motor Speedway two weeks ago was another classic example of guys having to adjust their mindset and how they drove because of the weather. Those poor guys had gale-force winds the entire weekend. It simply never stopped. When you are racing in constant 40-mph winds, it definitely will give you pause on how aggressively you drive.
We saw the effects of ,with only two cautions at Texas. Let's face it: The guys couldn't be nearly as aggressive as we are used to seeing them be at Texas, let alone race the competition, because they were simply trying to hold onto their cars. Racing the wind is like racing the rain. It's really tough to be aggressive when you are more worried about the weather than the other 42 guys you are competing against.
NASCAR drivers find a way to give back.
Then at Kansas, where it was expected to be a nice, sunny warm day, it turned out to be just the opposite. It was overcast, cloudy and cool. So, the guys didn't have the kind of conditions last week either that they had planned for and that affected setups, etc.
So, the weather affects a lot of things. From the way the drivers race, to the setup of the car to the setup of the engine, it affects everything. I think that might be something fans might forget about and not take into full consideration, like at Texas with all the complaints about a lack of cautions. The weather simply affects the way the drivers drive and what kind of race the fans see.
Some of the good news is we have had eight races and six different winners. The bad news is, there are a lot of fans whose favorite drivers are still searching for a way to get to Victory Lane. I mean, we are talking about some of the biggest names in our sport.
They include Jimmie Johnson, Kevin Harvick, Jeff Gordon, Kyle Busch, Dale Earnhardt Jr., Carl Edwards, Kasey Kahne and on and on. These are folks we expected to possibly have won some races by now.
The other good news is all four manufacturers have a win under their belt. We've had different pole winners, and winning a pole this year is like "Back to the Future." There is more emphasis and reward put back into winning a pole position this year.
NASCAR has gone back to establishing the field for the Shootout in Daytona in 2013 based on who wins a pole in 2012. Personally, I love it and am thankful they went back to that methodology.
The good news is we have had record-setting race speeds. The bad news is there haven't been a lot of cautions because of that and it makes a section of our fans unhappy. The good news is the Goodyear tires are the best they've ever been. The bad news is some of the drivers want Goodyear to change the makeup of the tires because they don't give up enough during the race runs.
You all know this: You can never make everyone happy all the time. It doesn't matter if it's the fans or the drivers. There's always going to be a call to change something, whether it's a track surface, the tires, the race schedule, whatever. Goodness knows, Mother Nature simply laughs at all of us when we talk about the weather and we wish for this or that.
I mentioned earlier about this having been such a busy week. This Tuesday, Stewart and I were over at Charlotte Motor Speedway helping raise money for Motor Racing Outreach. Fans had bid on packages online to take rides with Tony and me.
He brought his Office Depot No. 14 over and I had a retro Diet Mountain Dew No. 11 to tool around in. It was an absolute blast. The weather was perfect — thank you, Mother Nature — Tony and I were going at each other back and forth on the track, giving folks a glimpse of what racing in stock cars is like in four-lap runs at speed. Heck, we were even racing off pit road.
I told Tony this Tuesday when we were done, and I think it's very important to state it here: Tony is exactly like Dale Earnhardt Sr. was.
You folks have no idea all the things Big E did behind the scenes to help folks in need, and his only request was his involvement wasn't made public. He didn't want to ruin that Intimidator persona that he had created. I think it's a shame folks don't know all the things Dale did to help folks, and the same goes for Tony.
The man has a huge heart. He gives of his time and his money to help those less fortunate. He doesn't take what he has earned in his career and in his life for granted. He could have been 1,000 other places Tuesday or concentrating on what his teams needed for Saturday in Richmond. Instead Tony gave of his time to come help raise much-needed funds for MRO, which lives only through donations.
Tony's a great man. He's a great champion and the perfect ambassador for our sport. I call him the People's Champion because he is so down-to-Earth and genuinely cares about other folks.
He gives back to our sport. Isn't that something you want and expect from your champion? Isn't that someone you want your kids to look up to?
For me, it was like Christmas morning. I hadn't been behind the wheel of a Cup car in a couple years, so trust me, I wasn't about to quit early. I did my best to burn through a couple tanks of gas and set of tires. Even Tony was laughing at me, constantly saying, "Aren't you don't yet, old timer?"
I think Tony and I made it really fun for the fans. Tony must have had a lot of fun because when it was over he said he wanted to do it again next year, so MRO has already begun working on plans to make it bigger and better.
Also, there needs to be a big thank you to Marcus Smith, president of Charlotte Motor Speedway, for opening his track up to MRO and letting this event take place. It really was one of the coolest fundraisers MRO has ever done. I can't wait until next year!
So I get back Tuesday night, grab a bite to eat and then Wednesday morning hop back on the plane and go to Bristol. Bruton Smith invited me to come be part of his announcement and press conference about the changes to the track.
I'm sorry, this spring, I saw a great race at Bristol. I thought the track and the racing was the best it's ever been. Well, guess what? Supposedly, nobody likes it. The majority, supposedly, would like to give up hard, close, fast, side-by-side racing and go back to the one-groove, follow-the-leader type of racing there.
So Bruton has gone in, taken the SAFER barriers down and begun grinding on the progressive banking and is trying to get rid of some of that. That sure isn't cheap to do, and you have to give Bruton a lot of credit, especially in today's economy for stepping up and spending the money to give the fans what they want.
So, anyway, it's on to Richmond and Saturday night under the lights. My buddy Travis Tritt likes to sing, "Well, it's a long way to Richmond . . . with a redhead ridin' shotgun."
That's ol' DW, for sure. And like my other buddy, the late great Jerry Reed used to sing, I'm "East Bound and Down."
NASCAR Sprint Cup racing at Richmond International Raceway is almost here! Tune in to FOX on Saturday, April 28, for live coverage starting at 7 p.m. ET.