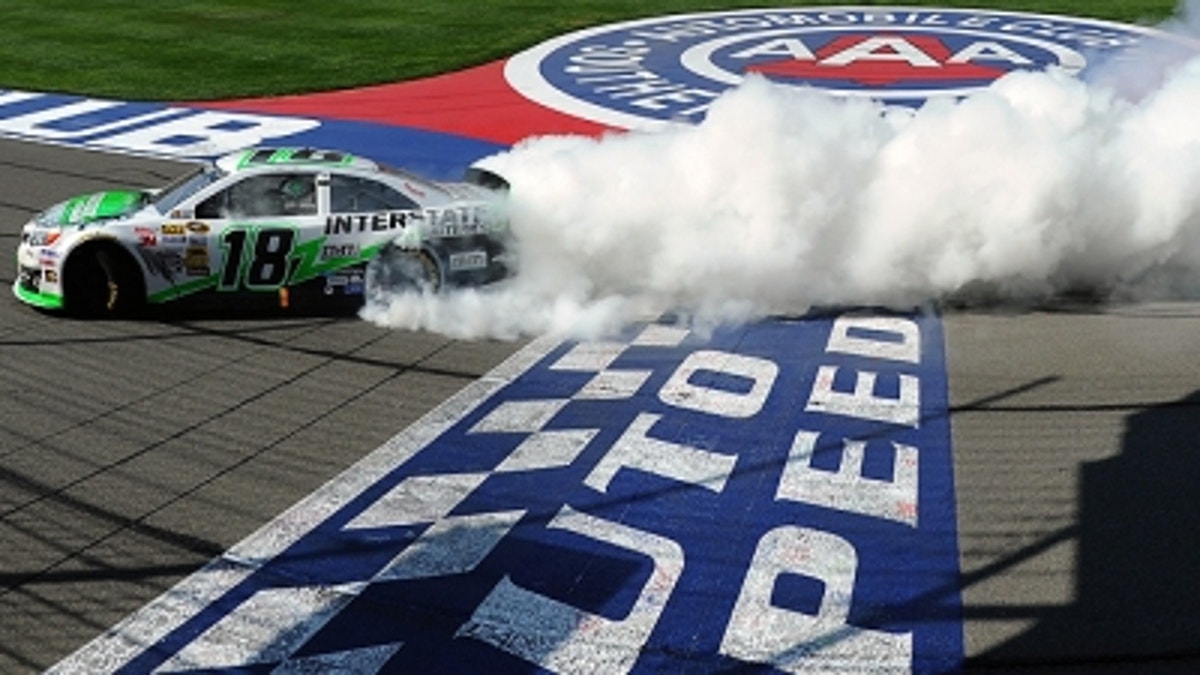 I really have to admit that of all the times I have been going to Auto Club Speedway in California, I haven't ever seen an ending to a race like I did on Sunday.
Once again this past weekend, these NASCAR Sprint Cup drivers in this new Gen-6 car did not disappoint. The speeds were fast. The pace was fast.
It's that kind of fast pace that really put a premium on track position, good-handling cars and engines that could go to the distance. Some of the drivers' motors couldn't handle the pace and blew up. At the same time, we saw cars that could handle the high speeds and could run high or low or really wherever the drivers wanted in order to be up front and competitive.
Sunday also brought us a lot of pit strategy. The crew chiefs were going with fuel-only stops, two tires only or stay-out-as-long-as-you-could just to get that all-important track position. Everything that makes an exciting race we saw on Sunday.
Every week it's been like that. Every week has been the unexpected. You see things you hadn't seen before. Also every week we see the teams learn and apply a little more to what they've learned about this new car.
I've said for weeks and I will keep saying it, this car has an incredible amount of potential and is still simply waiting on the teams to catch up to it. That's not an insult to these teams or their crew chiefs. I just see what this car is capable of, but like I keep saying, the teams still need time to learn more about it.
Everyone knows that when you get down to the end of any race it gets exciting. You can't run side by side at 200 mph and not have some contact. Blocking on the restart at Fontana is expected. The restarts are crazy. Tony Stewart was upset with Joey Logano on that last restart. Joey, in my book, didn't do anything different than other drivers had done all day.
Joey blocked Tony on that restart to break up his momentum. Tony was not a happy man as you all saw after the race. Tony then went and confronted Joey. Unlike last week's confrontation between Joey and Denny Hamlin, which involved only pushing, shoving and mouthing, we actually had punches thrown plus a water bottle tossed at Tony by Joey.
We showed you the view from Tony's in-car camera. You could see he was working hard. Tony was as intense as I have seen him in quite a long while. He needed a great run at Fontana after struggling these first few weeks. He didn't get the finish he thought he was going to get. So he was frustrated and took his frustration out on Joey.
Joey actually had bigger problems than Tony. Joey's problem was Denny Hamlin. We all know what had happened at Bristol between the two of them. There were hard feelings. There were harsh words exchanged at the track and then last week on Twitter.
When they started Sunday's race, however, I just felt they would respect each other. Drivers do that. They have a tendency to race people the way they were being raced. Denny and Joey raced each other hard for the most part without any contact.
With all that said, when you come down to the end of the race and everyone is bunched up, it's going to get intense. You can't let up. You have to push and fight and fight hard. Joey Logano doesn't have that type of reputation. He has the reputation of letting himself be pushed around.
He's pretty much accepted that until Sunday. I have to be honest, I gained a lot of respect from what I saw out of Joey Logano in Fontana by the way he drove. Now the wreck between Joey and Denny was hard racing. It was two guys racing hard for the win.
What I didn't agree with was what Joey said in his interview. In all fairness, Joey might not have known the situation with Denny being injured when he made the comment about Denny "getting what he deserved." No driver ever deserves to get hurt. I'd like to believe that Joey simply didn't know at that point what kind of condition Denny was in.
Again though, from the driving side of things, I really liked the way Joey drove Sunday. Was he aggressive? You are darn right he was. Are Tony Stewart or Kyle Busch aggressive? Yes, they are and that's what it takes to win races and then championships. Sunday was the easily the best race I've seen Joey drive. He simply didn't let himself get pushed and shoved around.
Yes the ending was ugly. You are going to have that sometimes when you have two guys going for a win like that, let alone two guys who really don't care for each other. Joey went into the corner under Denny. Joey pushed up into Denny. That got Denny sideways, he comes down and hits Joey in the right rear and sent Joey into the wall.
Denny then careened down into the inside wall, which until I saw the head-on hit, I had no idea there weren't SAFER barriers there. Like I've said for a couple years now, these cars just seem to have a knack for finding places at any track where there aren't those barriers. I bet when we return next year there will be SAFER barriers in place there.
We all saw Denny climb from his wrecked No. 11 but then crumble to the ground. He was taken to the infield care center and then later transported to the hospital and held overnight complaining of back pain. I sure hope Denny is all right. He's a great driver and a great young man who does a lot for charity.
We had an incredible race Sunday with an amazing finish. A bunch of guys in the top 10 had amazing finishes. Just look at Dale Earnhardt Jr. With 20 laps to go he was running 15th and finished second. He now has five top-10 finishes in all five of our 2013 races so far. Additionally his second-place finish put him in the points lead.
So I thought I saw the best race at Fontana ever. I saw Joey Logano drive the best race of his career at Fontana. All that, but I am sorry for what happened to Denny Hamlin. Again, no driver deserves to be hurt and I am sure NASCAR and the track will be adding those SAFER barriers.
So now it's NASCAR's version of Spring Break. We get a week off to celebrate Easter. Maybe everyone will get a chance to take a deep breath before heading to Martinsville.
Now trust me on this, when we go there next week it won't be any calmer or any saner. We'll just be going a little slower.