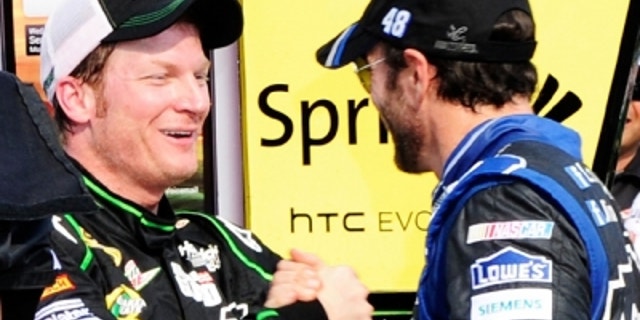 Well, folks, the 143-race winless streak is over. There is joy in Junior Nation, and trust me, there is joy in NASCAR.
With Dale Earnhardt Jr. finally getting back to Victory Lane after a long four-year drought, all is right with the world.
That win Sunday honestly has moved the needle on NASCAR exposure and interest like nothing we've seen since Trevor Bayne upset the racing world and won the Daytona 500 last year. The television ratings were up. Casual fans who might have been drifting away from the sport are taking another look. Turn on your TV, your radio or open your newspaper and there's either Dale Jr., or they are talking about Dale Jr.
"When is Dale Jr. ever going to win another race?" easily had become the No. 1 question by the fans these last four years. Heck, for that matter, it was the No. 1 question in the garage. When the sport's Most Popular Driver isn't winning, it's tough on the sport overall.
Junior Nation is huge. Even being conservative with my estimate, I would say 60 percent of NASCAR fans are Dale Jr. fans. His popularity knows no bounds. I kid Junior that he could enter his dog in the Best Looking Dog contest and the Worst Looking Dog contest and win them both, because it's Dale Jr. It's simply a statement about how passionate the fans are when it comes to anything to do with Dale Earnhardt Jr.
Dale Jr. knows all too well what is expected of him. His dad cast a huge shadow. There's a certain portion of the fans who want him to be like his dad, and when he doesn't live up to those expectations, then they are disappointed.
It's been a hard four years for him. People questioned his commitment and focus to the sport. People questioned his ability. People questioned his heart. Dale Jr. has a great sense of the responsibility that goes with having the last name of Earnhardt. His dad is in the NASCAR Hall of Fame with seven championships and 76 wins. Dale Jr. hasn't been able to come close to either of those numbers.
The key is, Junior has weathered it all and come out the other side. What I saw more than anything Sunday when he got out of the car in Victory Lane was relief. He was relieved the drought, the doubts and the weekly questions now were over. I know that feeling. His dad and I both experienced that kind of feeling at Daytona when we both finally won the Daytona 500. All the doubt and all the questions just stopped. Yes, it was such a relief. The feeling is so powerful. You almost want to be by yourself. You want to soak it in and savor it. The personal sense of accomplishment is so great that you don't want it to end.
You can liken Dale Jr. in our sport to a Hollywood movie star. He's like that actor who starred in a number of blockbusters and was the toast of the town. Then the hard times came. The movie roles weren't so good and they didn't do well at the box office.
People start questioning your ability, and then you start doubting your ability. It is hard on you emotionally and mentally. But then came that one script that put him back on top again.
That's what it was like for Dale Earnhardt Jr. and what happened at Michigan. It was like a Hollywood script. Before Sunday, where was the track he last won at? Michigan. He had the Dark Knight Rises for the new Batman movie on his car Sunday. So he had black on his car and won on Father's Day. Anyone else seeing the Hollywood script in this?
If you want another bit of Hollywood tie-in, teammate Jimmie Johnson won with the movie Madagascar 3 on his car two weeks ago in Dover. Sunday in Michigan it's Dale with the Dark Knight Rises on the
No. 88. Don't you think every car owner, driver and crew chief was calling Hollywood on Monday morning to see if they could possibly get some movie magic of their own?
I am absolutely thrilled for car owner Rick Hendrick. He never lost faith in Dale Jr. I am especially happy for crew chief Steve Letarte. Steve learned how to win from the master when he worked with Jeff Gordon. People were wanting and hoping for instant success when Hendrick moved Letarte over to the No. 88 car. Folks, it just doesn't happen like that.
Like the old saying of "Rome wasn't built in a day," well the same holds true with the No. 88 team. You simply don't rebuild a driver's confidence overnight. It takes time. Brick by brick, though, Steve rebuilt Dale's confidence in not only himself but also the team. Conversely, Steve got the team believing in its driver again.
That crew chief is the key. He is the one responsible for getting the most out of the team, but more important the most out of the driver. The great ones take you to another level. They take you to a level you didn't know you had. That's exactly what Steve Letarte has done for Dale Jr. and the No. 88 team.
There's no question that, since the Daytona 500 in February, we have seen a revitalized driver and team in the No. 88 camp. Steve told me Dale Jr. is more focused and committed than ever before. The team is giving Dale fast race cars and the pit crew has been spot on.
Like any professional sport, ours is based on statistics, and when it comes to the No. 88 in 2012, well, the numbers are staggering.
In 15 races so far this season, Dale Jr. has finished in the top 10, 12 times. He has six top-five finishes. He's second in the points, and only four back of leader Matt Kenseth. The most telling statistic to me is that Dale Earnhardt Jr. has completed every lap run in 2012. That's championship caliber racing right there.
I honestly think that win on Sunday might be the most important win in Dale Earnhardt Jr.'s life. That could be the win that propels him and the team to more visits to Victory Lane and the 2012 NASCAR Sprint Cup championship. I believe in it that strongly and the numbers back it up.
Now sure, this weekend might be tough for him. Dale isn't a fan of road-course racing and doesn't have a top-10 finish there in his entire career. If they could somehow leave Sonoma on Sunday night with a top 10 under their belt, well, then the sky's the limit for that team.
We'll head to Kentucky after that, and then to Daytona as we make the stretch-run to Richmond in early September to set the field for the 2012 Chase for the Sprint Cup.
It's been a great week for Dale Earnhardt Jr. But just as important, a great week for the sport of NASCAR.