Wallace Jr. wins at Martinsville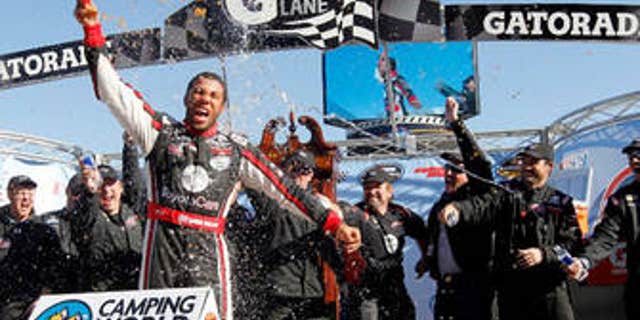 Darrell Wallace Jr. made history Saturday afternoon, winning the Kroger 200 NASCAR Camping World Truck Series race at Martinsville Speedway and becoming the first African-American driver to win a NASCAR Touring Series race since Wendell Scott on Dec. 1, 1963.
Driving in just his 19th career Truck Series start, Wallace dominated the afternoon in his No. 54 Kyle Busch Motorsports Toyota, leading 96 of 200 laps and cruising to a historic victory. Brendan Gaughan finished second in a Richard Childress-owned Chevrolet, followed by Jeb Burton, Ben Kennedy and Ryan Blaney.
The 20-year-old Wallace, known in the NASCAR community as "Bubba," was understandably emotional afterwards in the wake of his triumph. He and the late Scott are the only two African-American drivers to win NASCAR Touring Series races. And Wallace did it 30 miles away from where Scott grew up in Danville, Va.
"It means everything," Wallace said of his triumph. "This is an emotional one for me, especially to do it in Wendell Scott's backyard. I love to come in here to Martinsville. It's always good to me, and it finally paid off."
Wallace remains close friends with the Scott family, and after a hard crash last week at Talladega, Wendell Scott Jr. contacted Wallace to make sure he was OK. "If Wendell Scott was alive I would like to call him, but I can call Wendell Scott Jr.," Wallace said. "... Give him a call if he's not already tried to call my phone plenty of times right now."
Wallace said that although he had struggled in this his rookie season in the Truck Series, he knew this day was coming.
"I had so much confidence coming into this race," said Wallace. "I told my guys, I told everybody when they asked if I was ready to win, I said, 'Hell, yeah. Every time.' This one was for sure and we capitalized."
Runner-up Brendan Gaughan said he tried to get past Wallace at the end of the race, but couldn't during the final restart. "He did a great job on the restart," Gaughan said of Wallace. "... Darrell, I can't say enough for him. I'm so happy for NASCAR. I'm so happy for Darrell."
And the taste of the breakthrough victory was indeed sweet for Wallace.
"Winning, there's nothing better than winning," he said. "And I think that'll help kind of pave its own way there, and hopefully get my name out there even more. Winning this big race can always do that, and that's what I've been trying to do all year is to get my name out there, to keep pushing, to strive for kids younger than me to get in the sport and be here sitting here talking to you guys one day."
"I'm happier for Darrell than for anybody, but this is certainly a monumental day and hopefully one that he'll remember for a long time and can cherish," said Wallace's team owner, Kyle Busch. "The first one is always the most important one because it seems like they can just come right after that pretty easily. You know, we've seen great things out of Darrell this year, and he's really come a long ways throughout the season."
The race was marred by a fracas between Kevin Harvick and Ty Dillon, who took turns wrecking each other on the track and then exchanging insults afterwards.
"The 3 (Dillon) just dumped me," said Harvick. "Exactly the reason why I'm leaving RCR because you've got those kids coming up and they've got no respect for what they do in this sport and they've had everything fed to them with a spoon. So, I cut him slack all day and, you know, he just dive-bombs me in there, dumps me. I've got to thank all these Anderson Syrup guys for everything that they do. It's a shame you've got to get taken out by some rich kid like that."
"That stunk – the wreck part – but to tear up a truck after the race and totally take us out of the race and not to stick around after the race and walk off and not even want to say anything to me," countered Dillon. "I'm sure he's tweeting something now about it. So, can't even face me after. I'm pretty disappointed in the things that just went down."
The original article can be found at FOXSports.com: Wallace Jr. wins at Martinsville.