Wales national team boss says Bale is in 'no rush' to return to EPL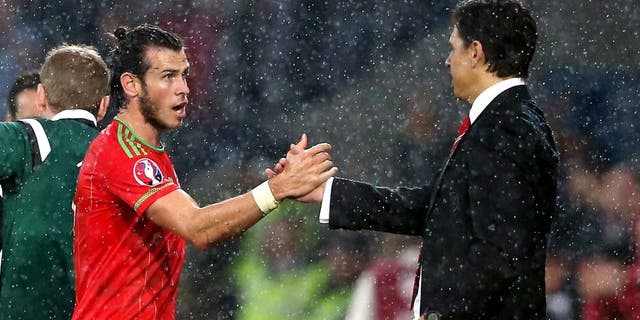 Wales manager Chris Coleman says he expects Gareth Bale to remain with Real Madrid rather than return to the Premier League.
After coming in for criticism during his second season in Spain, there has been speculation that the 26-year-old could return to England, with Manchester United reported as potential suitors.
However, Coleman hopes Bale, who has been key in Wales' European Championship qualifying campaign, remains with Madrid.
"Personally I think the Premier League is such a physical demand on the guys," he told Goals on Sunday.
"With Balely, if you are that good offensively you are going to get kicked and beat up a bit. The Premier League is the hardest league physically, so, selfishly, when I get him from La Liga he is better physically probably than when he was at Tottenham. The tempo is different in Spain, it's slower."
Bale himself has said he has no plans to leave Madrid this summer and his new head coach, Rafa Benitez, also does not expect him to move on.
Coleman thinks his fellow Welshman is in "no rush" to return and will improve in his third season in Spain.
"Manchester United are who they are, but why is he going to want to leave Madrid?" he said. "I know he came in for a lot of criticism and was seen at the president's boy because of the huge transfer fee and he was targeted.
"I watched a lot of Madrid's games and (Cristiano) Ronaldo, (Karim) Benzema, Isco were having bad times, but Balely was targeted for sure and they left him out in the cold. The newspapers gave him a hard time when most of the players were having a tough time.
"But he is strong enough and come through that and I think he will have a good season with Benitez."