Wait-and-see approach as Wambach decides on playing future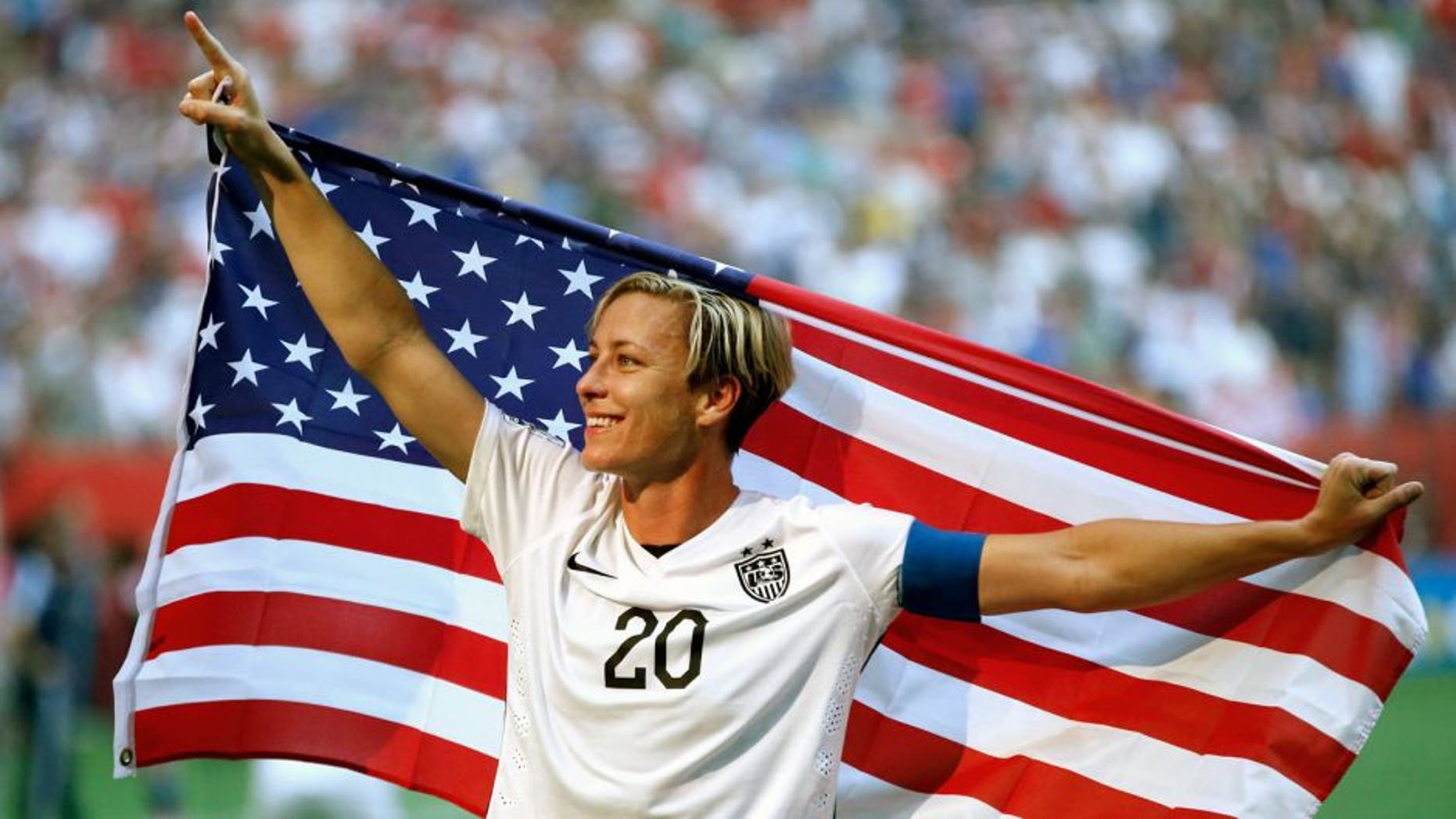 Can Abby Wambach walk away from her historic soccer career? Should she?
Amidst the spate of retirement news coming from the United States women's national soccer team since their 2015 Women's World Cup win on July 5 in Vancouver, soccer's all-time leading goal scorer said her future remains undecided.
"It's really hard. It's really hard to have a body of work that has lasted for so many -- I've been playing this game 30 years -- and to decide whether you want to walk away world champion and on top of the game or go back and try and make a roster of 18 to play in the Olympics, it's not going to be an easy task," Wambach told FOXSoccer.com. "It's not something I'm going to take lightly. But it is something I am thinking about every minute of every day."
Wambach, 35, took the first two weeks of August off and spent them on her family's private island in Alexandria Bay, N.Y.. Surveyor's Island is near the St. Lawrence River above her Rochester hometown. It was the longest vacation she's ever taken since starting to play for the U.S. national team.
"I bought a couple of toys during the World Cup when I was bored. So I had a couple of jet skis and a boat. I was just driving around and being a no-name person. It was really nice but it was good to get off the island and back to the real world," said Wambach when she re-emerged in time for the U.S. women's national team's Victory Tour stops in Pittsburgh and Chattanooga earlier this month.
"It feels a little bit weird. But it's good to listen to the stories they have and the competitiveness they're having on the National Women's Soccer League, arguing over whether that was a foul or 'I should have won that game.' That's always fun. They're so young but I'm trying to make sure [my teammates] get the emotional break after the World Cup. You're on this mountain and you have to be able to emotionally deal with life as it was before the World Cup, so these guys have jumped right back into the NWSL, promotional appearances, photo shoots and all that. You've got to get the rest because that just translates into injuries," Wambach said.
But she does seem to be in an in-between mode. Emotionally, she is not ready to ramp back to World Cup level. And she is understandably a lot less wired than she had been in Canada earlier this summer, where 16 years of World Cup futility finally ended. Securing that final, missing prize in her storied career has not led to an epiphany about what she should do about her soccer career.
So far, Wambach has not announced she is leaving the game for family reasons, as Shannon Boxx has said. She's not leaving to go to medical school, as Rachel Van Hollebeke just announced upon her September entry to the University of California at San Diego. She's not leaving to be an assistant college coach, as Lori Chalupny is doing. Nor is she stepping away to spend time with family and serve God, as 27-year-old Lauren Holiday said she will do.
Wambach occupies a separate space from these U.S. stars, for three reasons; she holds the record for the most goals scored by anyone in international soccer, currently sitting in 184 goals; she is a leader and a link to the 1999 U.S. women's team that delivered women's soccer to the world stage; she is a rare personality whose honesty makes her the absolute best spokesperson for women's soccer.
While her physical skills have diminished -- and cost her starting time and minutes in the World Cup -- U.S. Soccer officials call the decision to step away all Wambach's. U.S. national team coach Jill Ellis said she will work to develop the U.S. squad ahead of February's CONCACAF Olympic qualifying tournament in Dallas and Houston.
And even the fact that only 18 players will go the Olympics, the U.S. proved by the time it won the World Cup that the team has the talent and the mindset to be the clear No. 1 team in the world. A U.S. Olympic team could not carry Wambach as a super sub, or team leader, just like Ellis took Boxx, Christie Rampone and Chalupny to Canada.
So, this is all about whether Wambach can re-energize for one last run.
"I know that everybody wants to know but it's the truth that I just don't know what I want to do yet. More will be known from my perspective after I sit down with the coaching staff and see what my future holds," Wambach said.
"My mom said when I was a little kid, I wanted to quit soccer playing after every season. She said 'Just give her two weeks.' So I got my two weeks and got bored enough to get back on the pitch and enjoy what I'm doing. The seven-game tournament was brutal: Brutal on the body, brutal on the heart, brutal on the emotions," she said.
But Wambach seems to be waiting to see if the old pattern kicks in. After an intense period of training and competition, she has always needed to walk away and decompress.
"I'd be more surprised if I didn't ramp back up, but I just want to make sure my heart is completely in it because I am a complete emotional person. When I'm into something, I'm in. The World Cup took an extra toll, on a lot of us," Wambach said.
Which means, as the Victory Tour continues next month in Detroit and Alabama, and in Seattle and Orlando in October, we will all wait and see if Wambach has one last run in her.