Wainwright, Schumaker focus on gridiron along with diamond this time of year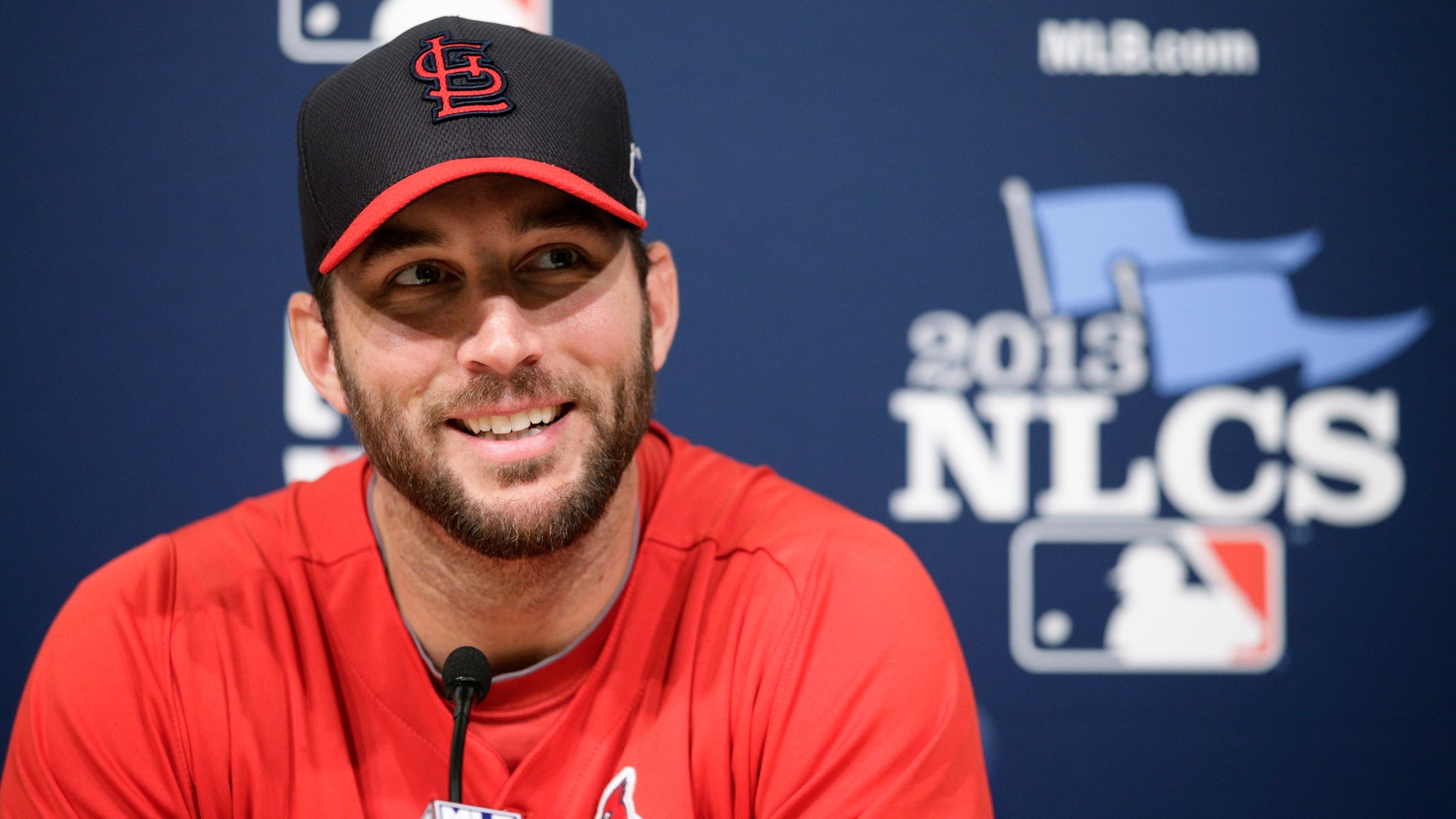 The interaction between Cardinals pitcher Adam Wainwright and Dodgers outfielder Skip Schumaker is more about football these days than baseball.
Wainwright, slated to start Game 3 of the NL championship series on Monday, is the commissioner of a fantasy football league that includes Schumaker as an active player.
"Fantasy football is still pretty important among baseball players," Wainwright said.
Schumaker didn't have a lot of praise for his former teammate's handling of the league.
"He's one of the worst commissioners in the history of fantasy football," Schumaker said with a grin. "He's always late. Draft time is always an hour later.
"Brian McCann is in it," Schumaker continued, referring to the Atlanta catcher. "There are a few guys who can verify all this. He's horrible."
Schumaker admitted impeachment proceedings against Wainwright have been considered, but his friend remains in charge for now.
"We've tried," Schumaker said. "We don't want to hurt his feelings. It means a lot to him. We know how much it means to him."
___
THE RECORD BOOK: The 12 strikeouts by Anibal Sanchez in the AL championship series opener were the most by a pitcher before he allowed a hit in a postseason game, according to the Detroit Tigers, who cited the Elias Sports Bureau. The previous record was held by Sandy Koufax, who struck out 10 Yankees before Elston Howard hit a two-out single in the fifth inning the first game of the 1963 World Series.
Sanchez's four strikeouts in the first inning — the extra came thanks to a third-strike wild pitch to Shane Victorino — made him the second pitcher to fan four in an inning. Detroit's Ty Cobb was one of four batters fanned by Orval Overall of the 1908 Chicago Cubs in the first inning of Game 5 of the World Series. Sanchez is the first Tigers pitcher to strike out four in an inning ever, regular season or playoffs.
Detroit's 1-0 victory was the first time the Red Sox had been shut out at home in the postseason since the Cubs' Hippo Vaughn beat Sad Sam Jones 3-0 in Game 5 of the 1918 World Series. It was the sixth time in all that Boston had been shut out in the postseason.
The one hit — Daniel Nava's ninth-inning single — was a low for the Red Sox in 157 postseason games. The 17 strikeouts for Red Sox batters tied the postseason record for a nine-inning game, set when St. Louis' Bob Gibson fanned 17 Tigers batters in the 1968 World Series opener and matched by Houston in the first game of the 1998 NL division series against San Diego.
___
CARDINALS MVP: If the Cardinals had to pick a most valuable member of their its staff, the winner could be catcher Yadier Molina.
Cardinal pitcher Joe Kelly was in trouble in the first inning of the opener at St. Louis on Friday. The Dodgers had runners at second and third with one out, and Adrian Gonzalez and Yasiel Puig were due up.
Molina figured that was a good time to visit the mound.
"He came out and said, 'Your stuff is good. Just go ahead and throw it. Throw it over the plate and the guys won't hit it,'" Kelly recalled. "I settled in and struck out the next two guys without giving up a run. That was huge."
For Molina, it was more typical than huge.
"It's easy to trust a guy when you know the history behind him," said closer Trevor Rosenthal, who earned the save on Saturday. "You know he's put in the work. At the same time he's such a fierce competitor that he wants nothing but the best for you."
Molina doesn't think he's doing anything special in that regard. He just feels that knowing everything he can about his pitchers, and opposing hitters, is in his job description.
"Everybody is different so you have to find the way," he said. "That's why we have spring training. You get to know the pitcher and when you've got the situation in the playoffs, you already know what they like to do or not."
___
A LASTING FRIENDSHIP: Tigers outfielder Torii Hunter and David Ortiz came up as part of the Minnesota Twins' organization, playing their first big league games together 17 years ago.
They developed a friendship that's lasted.
"We're enemies, but I love him to death," Hunter said before Game 2 of the ALCS. "I'd do anything for him."
The pair played together until 2003, when Ortiz signed as a free agent with the Red Sox. Hunter still doesn't understand why the Twins let him go.
"He was, I thought, the best hitter in 2002 on our ballclub, and he missed six, seven weeks, and we non-tendered him and the Red Sox picked up a gold mine," Hunter said. "I thought he was the best hitter on our ballclub with the Minnesota Twins. You guys found a diamond in the rough."
Ortiz has gone on to hit over 400 homers in his career, collecting more than 2,000 hits and helping the Red Sox win World Series titles in 2004 and '07.
"I think David Ortiz — everything, all of his accomplishments, everything is well deserved," Hunter said. "I've seen him grow."
___
LOOKS CAN FOOL YOU: Jonny Gomes wore a combat helmet during the team's AL East-clinching celebration and again when the Red Sox knocked out the Tampa Bay Rays last week. He's one of the leaders of Boston's beard brigade, but John Farrell says looks can be deceiving.
"Don't let that appearance take away from how smart a baseball player he is," the Red Sox manager said. "He's a very instinctual guy. He anticipates situations as good as anybody we have in uniform, whether that's on the base paths or whether that's preparing for a potential pinch-hit situation."
Gomes is with his fifth big league team, and he's in the postseason for the third time. He also was a member of Tampa Bay in 2007-08, when the team went from worst to first — like this year's Red Sox.
Maybe that's why Farrell inserted Gomes into Game 2, playing in left field and batting sixth, looking for an offensive spark following Boston's opening 1-0 loss.
"You've got to have some guys on your team that will be able to nip in the bud in April, in June, in July, when things roll, stop it now," Gomes said when asked what makes a winning clubhouse. "You've got to get out of the valley, get back up, versus letting it play, riding it out."