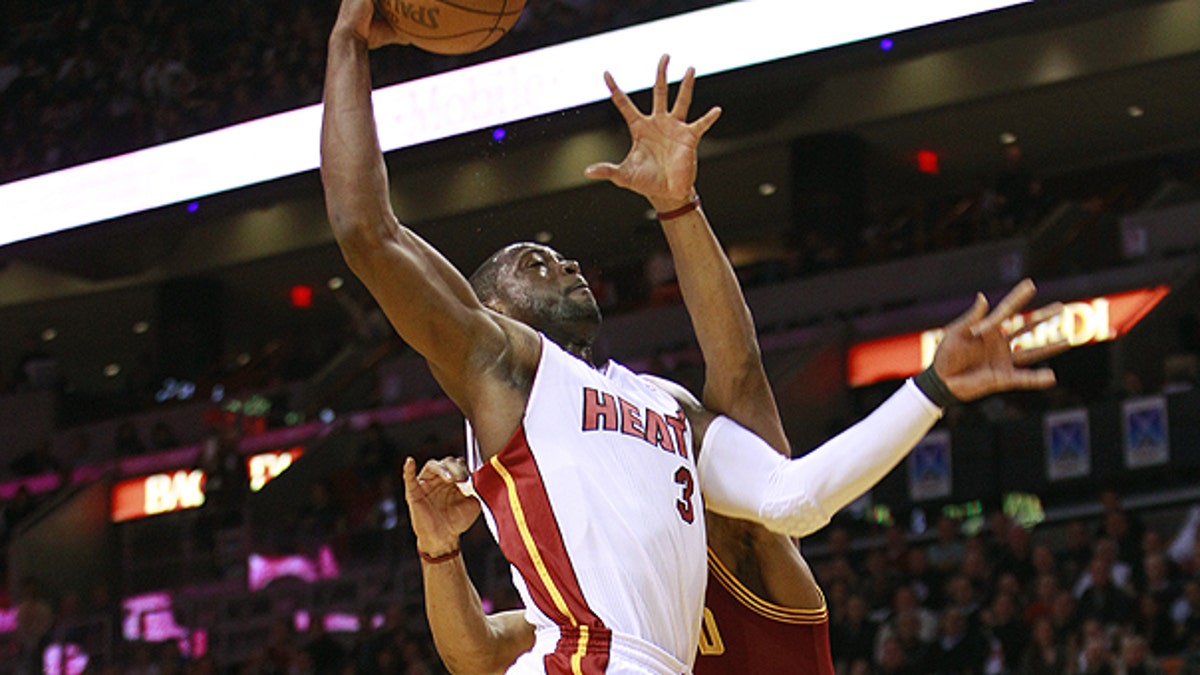 MIAMI -- LeBron James had few words for his former Cleveland teammates this time.
Dwyane Wade did more than enough talking with his play.
Wade scored 17 of his 28 points in the fourth quarter, James added 21 points and a season-high 13 rebounds, and the Miami Heat won their 10th straight game, holding off the Cavaliers 101-95 on Wednesday night.
Chris Bosh scored 16 points for Miami, 2-0 against James' former team. Mario Chalmers had 14 and James Jones added 11 for the Heat.
Miami failed in its quest to be the fourth NBA team ever to win 10 straight games by at least 10 points. Still, the 10-game winning streak -- by any margin -- matched the fourth-longest in Heat history.
Daniel Gibson scored 26 points for Cleveland, which lost its ninth straight. Anderson Varejao had 18 points and 15 rebounds, Antawn Jamison scored 15 points and Mo Williams added 13 for the Cavs.
Emotions were nowhere near as high as they were when James appeared in Cleveland for the first time as an opponent on Dec. 2, though there was some tension. At least one skirmish broke out in the stands -- a rare occurrence in Miami -- during the fourth quarter as Miami pulled away.
On the court, there was some flareups as well. Gibson wrapped up James on a fast break in the fourth quarter, the two friends not exchanging a word. And in the opening minutes, Wade was tackled by Joey Graham while dunking after an assist from James. Wade got pulled up by James, then did his arms-flailing, George-Jefferson-styled celebration.
In the end, the story was the same: James left pleased, Cleveland left disappointed. But this one was nothing like the hyped-for-months matchup in Cleveland two weeks ago.
That one was over early.
This one, not even close.
Miami's 14-point lead was down to six when Gibson hit a 3-pointer with 2:09 left, and Jamison's free throws 36 seconds later made it 96-93.
That was Cleveland's last gasp. Gibson missed a 3-pointer over James with 46 seconds left, Williams missed a long try from the left side with 17 ticks remaining, and Miami escaped.
Even the mood when the players took the floor was noticably different than the Dec. 2 meeting in Cleveland, when both James and members of the team he left behind were criticized for being, at times, a little too chummy with one another.
No pleasantries this time, no hugs, and not much in the way of talking, either.
Cleveland's play was different, too. The Cavaliers led by six after five minutes, and then a 14-2 run midway through the second quarter -- capped by Jamison's 3-pointer with 3 minutes left in the half -- put Cleveland up 47-37.
It was the first time since losing in Dallas on Nov. 27, 10 games ago, that the Heat faced a double-digit deficit.
And it served as a wake-up call.
Miami scored the final five points of the half, went into the break down 49-46, then got a perfect third quarter from Chalmers, who was making his first start of the year because Carlos Arroyo returned to Puerto Rico for a family funeral.
Chalmers hit all four of his shots in the third, three of them from 3-point range, and Miami took a fledgling 73-71 lead into the final 12 minutes.
Eventually, the Heat got separation.
Wade scored Miami's first seven points of the final quarter, and he was just getting started. He gave Miami a scare when he took a tumble early in the period and aggravated his sore left wrist, so much so that he signaled to the Heat bench for a time-out -- and walked over in obvious pain.
So on the continuation of that possession, Wade hit a 3-pointer for a nine-point lead, then connected again on a 26-foot pullup with 4:22 left for a 95-81 cushion, the biggest of the night to that point.
Miami needed just about every bit of that lead, too, just to survive Cleveland's frantic comeback try in the final minutes.
NOTES: The Heat won for the 12th straight time when Jones makes at least three 3-pointers, a streak that dates to April 15, 2009. ... There were a smattering of "Miami loves you" chants directed toward James again, the continued rebuttal to the "Akron hates you" cries in Cleveland. ... Gibson cracked the 20-point mark for the first time in seven games. ... Earlier Wednesday, former Heat center and current team executive Alonzo Mourning received the 2010 Community Leadership Award from FBI officials in Miami.