Vrabel among former Pats on Houston sideline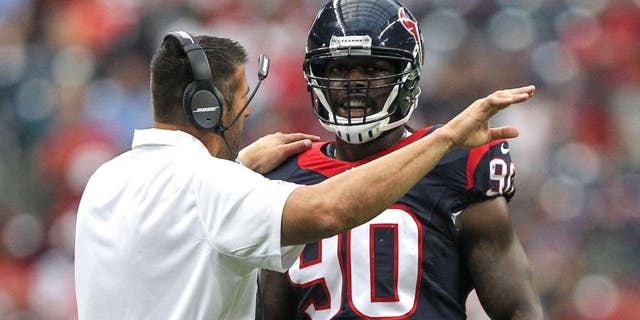 FOXBOROUGH, Mass. (AP) Few people know as much about football as New England coach Bill Belichick, but that never stopped Mike Vrabel from making suggestions when he played linebacker for the Patriots.
''I would tell him, `Mike, when you're a coach and you're calling the defenses, you should go ahead and do that,''' Belichick said Wednesday.
Vrabel played eight seasons in New England and won three Super Bowls under Belichick. Now, he's a linebackers coach for the Houston Texans, and will finally get a chance to test his schemes against his former coach on Sunday night.
Belichick said he didn't always listen to his former player.
''(I'd say), `Here's why we're not going to do that,''' Belichick said. ''Or, `That's a great idea. We can do that, that's good, I'm glad you brought that up.'''
Belichick said he thinks Vrabel has a great mind and passion for coaching.
''He's got great playing experience, so he can draw on things that honestly I can't. I've never played in this league,'' Belichick said. Belichick said he isn't surprised Vrabel has ventured into coaching.
''Even when he first got here, you could even kind of see it then,'' Belichick said. ''His career wasn't even half over and he was already kind of thinking about coaching.''
After playing, Vrabel was a defensive line coach at Ohio State for three years before joining the staff of Texans coach Bill O'Brien. O'Brien coached Vrabel in New England for two seasons.
Belichick says he gave Vrabel some pointers along the way.
''We discussed a lot ... whether it would be X's and O's or managing players or practice tempo, whatever it was,'' Belichick said.
Vrabel's flexibility made him a favorite of Belichick, who frequently used him as a tight end in goal-line packages. Vrabel had eight catches in his Patriots career, all for touchdowns.
''He's played different systems, he's played different positions,'' Belichick said. ''He's played offense, defense, special teams. He's played end, he's played linebacker.''
Belichick also recalled times when Vrabel ventured into the defensive backfield at practice.
''He would play free safety in practice for us probably once or twice a year, especially when we were up against a guy like Ed Reed or somebody who you really didn't know what he would do,'' Belichick said.
''You would just say go back there and go with what you see and if you want to gamble,'' Belichick said. ''Mike, he would love that. He would drive (Tom) Brady crazy doing that.''
---
NOTES: Belichick compared Texans DE J.J. Watt, a two-time AP NFL Defensive Player of the Year, to Hall of Fame LB Lawrence Taylor. ''He's as disruptive as a defensive lineman as I've seen,'' Belichick said. ''In the same general category as L.T.'' ... WR Danny Amendola grew up in The Woodlands, Texas, roughly 30 miles outside Houston. ''I love going back home,'' Amendola said. ''Mexican food and football is what Texas is about.'' ... On Tuesday, the Patriots waived CB Rashaan Melvin and released TE Joseph Fauria from the practice squad. Fauria is the nephew of retired TE Christian Fauria, who spent four seasons with Belichick in New England.