Vote involving Rays is positive for Tampa area and gives hope to Montreal and Mexico City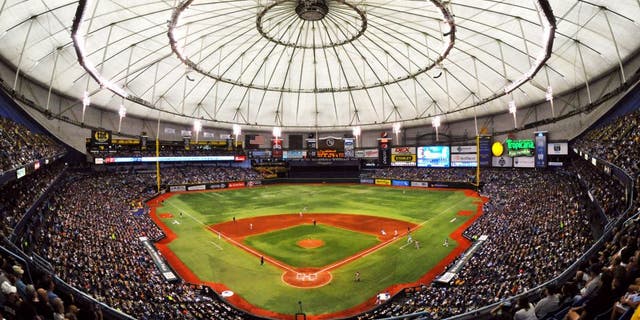 If you love the Rays and want them to remain in Tampa Bay, you have new reason to hope.
If you're a baseball fan in Montreal or Mexico City, eager for the franchise to relocate ... you also have new reason to hope.
Such was the duality of Thursday's landmark vote by the St. Petersburg (Fla.) city council, giving the Rays legal clearance to evaluate stadium sites outside St. Petersburg for the first time.
For now, the Rays' search is restricted to their immediate surroundings, in Pinellas and Hillsborough counties. But that is sufficient for Rays owner Stuart Sternberg to answer a question he's finally allowed to confront publicly: Is Tampa Bay a viable, major-league market if the Rays can play somewhere other than Tropicana Field?
The Rays' lease with St. Petersburg runs through the 2027 season; under the terms of Thursday's agreement, they won't be allowed to play elsewhere in the region until 2018 at the earliest. And that's fine. The team likely will need at least one year to comprehensively assess the market.
If the Rays find the right tract of land in the region for their dream home, we'll hear the familiar back-and-forth concerning public and private funds. If there isn't a location in Tampa Bay to the team's liking -- or at the right price -- then at least Sternberg has a logical place to begin the discussion about relocation to another market.
That price is $24 million -- the amount the Rays owe St. Petersburg if they move into a new home for the 2018 season. The "buyout" diminishes as 2027 approaches, with the final four years valued at $2 million each.
So there would be the question, loaded with political trapdoors: If $24 million is acceptable recompense for losing a baseball franchise to the city across the bridge, what if the team moves to Canada? Or Mexico?
Double the money?
Triple?
One day, we might find out. St. Petersburg mayor Rick Kriseman has shown great pragmatism in dealing with the Rays since taking office; if he believes the Rays are destined to leave, he will ensure that (a) the site is suitably redeveloped and (b) the Rays contribute fairly to the treasury before leaving town.
Sternberg has built enough credibility with Rays fans that they should trust his pledge to do everything possible to keep the team in the region. But he's also one of the most forward-looking and globally aware owners in the sport, making him the ideal person to facilitate the team's relocation if such a step is deemed necessary.
Over the past year, Major League Baseball Commissioner Rob Manfred has spoken favorably about Mexico as the potential home of a permanent MLB franchise. By 2018 or 2019, MLB officials should have a stronger sense of that concept's viability. Around the same time, Montreal's effort to bring back a baseball franchise to the city could produce a stadium plan. The possibility of expansion to 32 teams -- which no longer seems far-fetched -- could influence the Rays' options.
Interestingly, Thursday's agreement enables the Rays to play up to 10 "home" games at sites outside of Pinellas and Hillsborough counties in future seasons. That's a good way to expand revenue ... or explore relocation.
But let's not get carried away: Thursday was about the Rays' ability to go house-hunting in their own neighborhood. They're about to get answers. And that's good for all the stakeholders in the franchise's future, wherever they live.
Rule changes for 2016?
After Ruben Tejada sustained a broken leg in the National League playoffs on a controversial slide by Chase Utley, the offseason began with MLB officials vowing to review the rules governing slides into second base.
Ideally, MLB owners would vote on new recommendations at next week's quarterly meetings, then send the proposal to the MLB Players Association for its approval. At this point, however, sources say discussions on plays at second base and possible changes to instant replay are not likely to conclude by the time those meetings adjourn.
Some MLB officials have suggested the league should adopt an NCAA-style rule whereby baserunners are required to slide directly into second base when attempting to break up double plays; that is the rule for many amateur baseball leagues and even the MLB-operated Arizona Fall League. However, approval of the players union won't be automatic, particularly against the backdrop of collective bargaining negotiations, which are set to begin in February or March.
Second chance for German ace
Arizona Diamondbacks minor-league right-hander Markus Solbach was introduced to baseball by luck -- or fate, depending on one's perspective. But he's still in the sport, poised to pitch for his country in a World Baseball Classic qualifier this spring, because of perseverance and resourcefulness.
Solbach, 24, was born in Dormagen, Germany, but lived in the Detroit area between the ages of 4 and 6 because the Ford Motor Company transferred his father there. It was in Michigan where Solbach had his first meaningful exposure to baseball.
"If I wouldn't have lived in the States for two years, I don't think I would (be playing) baseball now," Solbach told FOX Sports. "It had a huge impact on me. The thing I remember is that everything was bigger than back home -- bigger houses, bigger cars, bigger streets. You couldn't just walk to the grocery store. You had to drive everywhere."
Solbach's own profession brought him back to the U.S. some 13 years later, as a reliever for the Minnesota Twins' Gulf Coast League affiliate. But he never advanced beyond that level, and the Twins released him in 2013.
Rather than return home, Solbach found a roster spot with the independent Windy City Thunderbolts of the Frontier League. Diamondbacks scout Bill Bryk noticed him there and recommended an offseason plan to improve his velocity. Solbach followed through on it, the Diamondbacks signed him, and he reached high Class-A Visalia by the end of 2015.
"I think the biggest thing for me was to get released," Solbach said. "That actually showed me how much I wanted to play baseball and made (me) work even harder than before. Ever since I've been with the Diamondbacks, I tell myself that this is my last chance."
In March, Solbach is expected to be one of Germany's starting pitchers during a WBC qualifier in Mexicali, Mexico, that includes the Czech Republic, Nicaragua and the host country. Mexico, with a pitching staff comprised largely of major-league arms, is the favorite.
"It's not going to be easy in Mexico, but I think we are sending a pretty strong team over there," Solbach said. "Baseball in Germany has developed a lot in the past few years. The German team is better and better. I haven't seen a Bundesliga game [in the country's top league] in five years, but every time we have a tournament with the national team I'm surprised at how far we've come."