Von Miller was in Panthers' backfield before Cam Newton could blink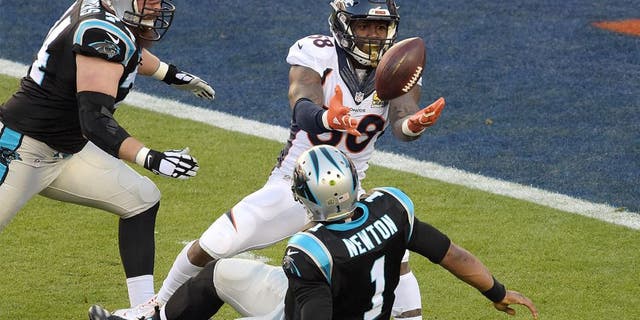 Von Miller tortured Cam Newton in Super Bowl 50, recording 2.5 sacks and two forced fumbles in a performance that earned the Denver Broncos' linebacker the game's MVP.
Go ahead and bag on Newton all you want for his touchdown-less play, but also consider this: It took Miller an average of 2.97 seconds to sack the Carolina Panthers QB on Sunday, the fastest sack coming in 2.3 seconds. Those impressive numbers according to NFL Networks' Next Gen Stats video posted to Twitter on Thursday (you can watch it here; sorry, it can't be embedded).
Trying to send a simple text is hard enough to do in that amount of time, let alone survey the coverage, find an open receiver, and deliver a pinpoint pass to a teammate -- or just plain throw the ball away.
All this is a way of saying it wasn't fun being Newton on Sunday. Not with Miller wreaking havoc all over the field. Whether he should have jumped on one particular fumble after losing the ball is another discussion.