Von Miller reportedly isn't ready to accept the Broncos' giant contract offer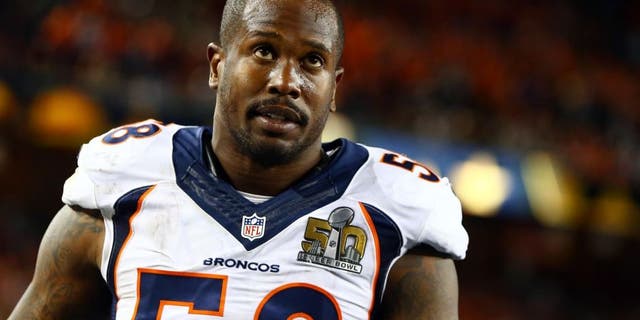 NEWYou can now listen to Fox News articles!
Super Bowl MVP Von Miller has been presented a contract offer by the Denver Broncos that would make him the highest-paid defensive player in the league, but he's not biting, according to multiple reports.
The Broncos' six-year offer slightly exceeds the $114.375 million contract signed by Dolphins defensive lineman Ndamukong Suh in 2015, according to Denver's 9News, but that offer was supposed to have a 10 p.m. Tuesday deadline.
Though the 9News reports that talks continued past the deadline Wednesday, ESPN is reporting that the sides remain far apart.
The Broncos had said that without an agreement by the deadline that Miller would have to play the 2016 season on a $14.129 million franchise tag. On Monday, Miller said at a press conference during the team's visit to the White House that "real progress" had been made in negotiations.
But the sticking point, according to 9News, is not in the terms of the deal but in how much money will be guaranteed. The league deadline to sign a long-term contract before the franchise tag kicks in is July 15, but the Broncos wanted to move up the date to get Miller into this week's minicamp, which he has not attended.