Von Miller made quite an appearance at the Grammys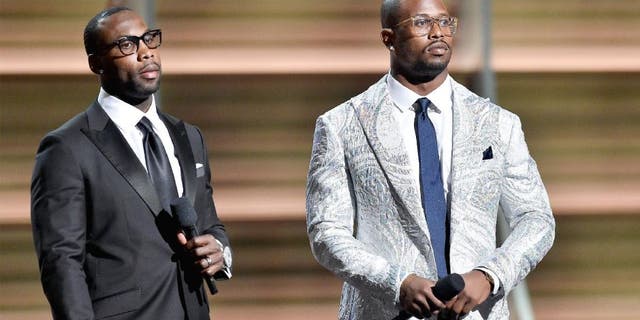 NEWYou can now listen to Fox News articles!
The Broncos are winners, and they've been enjoying their victor's spoils since winning the Super Bowl nine days ago.
That continued on Monday night, when pending free-agent linebacker and Super Bowl MVP Von Miller showed up at the Grammys to introduce a performance by Carrie Underwood and Sam Hunt.
If you didn't know who he was there to introduce we can't blame you --€" you may have been distracted by the sparkling jacket Miller chose to wear on stage. Take a closer look at this bad boy:
Man, that thing would probably make Ke$ha proud. Is it bedazzled?
In any event, maybe if Miller had worn that during the Super Bowl, the Panthers would have been able to spot him and keep him off quarterback Cam Newton.
Miller racked up 2.5 sacks in the Broncos' 24-10 win over the Panthers, and his two forced fumbles helped Denver score both of its touchdowns.