Von Miller crops John Elway out of a Broncos White House photo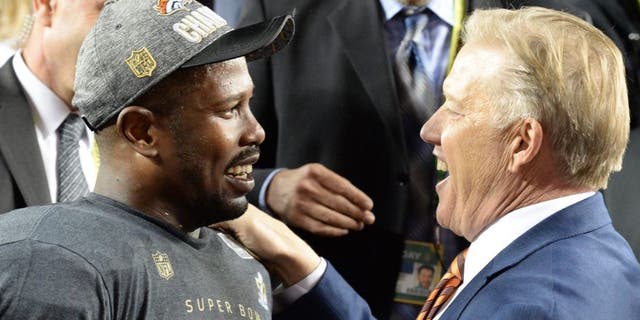 NEWYou can now listen to Fox News articles!
Von Miller and the Denver Broncos are currently in a standoff over the Super Bowl MVP's contract situation. After being slapped with the franchise tag back in March, the two sides have been working towards a lucrative, long-term extension that would keep Miller in Denver for years to come. Only, they can't agree on a contract, despite the Broncos offering him a reported $114.5 million.
According to reports, Miller is supposedly threatening to sit out the entire 2016 season if a deal can't be reached. And now, he's seemingly taking subtle jabs at Broncos general manager John Elway. The team visited the White House on Monday to celebrate their Super Bowl victory with President Barack Obama. DeMarcus Ware shared a group photo on Friday, as did Miller. There was just one key difference.
Ware's post:
Miller's post:
Notice anything glaringly different between the two? Elway is suspiciously cropped out of Miller's post, which is too obvious to discount.
Maybe it's a shot at the man at the helm, or maybe Miller's just not great at cropping photos for Instagram. We may never know, but the former seems more likely.