Vitor Belfort meets Nate Marquardt in retirement fight at UFC 212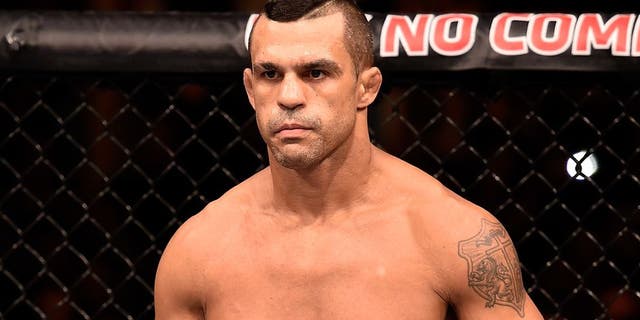 Vitor Belfort will close out his legendary career with one more fight at home.
The former UFC champion will make his last walk to the Octagon with a fight against Nate Marquardt on June 3 at UFC 212 in his native Brazil.
UFC officials announced the pairing on Monday.
Belfort (25-14) stated following his last fight against Kelvin Gastelum that as he entered into the final bout on his current UFC contract that he was planning on retiring aftewards.
The 40-year old veteran had hoped to book his last fight for the upcoming card in Rio de Janeiro as a fitting swan song for a career inside the Octagon that stretches back more than 20 years.
Belfort sent out a message on his Instagram account on Monday speaking about the fight scheduled for UFC 212.
"I started my UFC journey 20 years ago, at UFC 12 and exactly 200 events after [on] June 3, I will be making my last appearance for the organization at my hometown, Rio de Janeiro," Belfort wrote.
"I'm expecting you at the arena so I can say thank you in person to you all that have been with me along this way. Always together!"
Meanwhile, Marquardt (35-17-2) will look to play spoiler to Belfort's final fight as he returns to action for the first time since January when he dropped a unanimous decision to Sam Alvey.
Marquardt has faced a mixed bag of results since returning to the middleweight division in 2014 while amassing a 3-4 record overall at 185-pounds in his most recent performances.
UFC 212 goes down on June 3 with Jose Aldo meeting Max Holloway in the featherweight title unification main event.