Virginia Tech gets huge games from 3 players, but comes up short in 74-70 loss to No. 3 Duke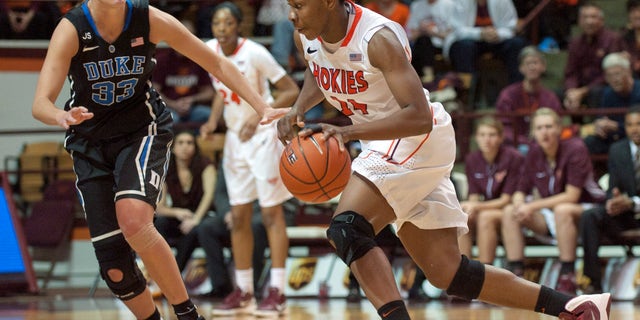 BLACKSBURG, Va. – Monet Tellier detests what Virginia Tech's 0-4 record in Atlantic Coast Conference play suggests about her team, and taking No. 3 Duke to the final seconds before losing offered her little consolation.
"We have a good team," Tellier said. "Unfortunately, we don't have an ACC win to show for it."
Tricia Liston scored 22 points, including three critical free throws in the final seconds, and Alexis Jones added 19 points as the Blue Devils held off Virginia Tech's rally to win 74-70 on Sunday.
The Hokies countered with a three-headed scoring monster, getting 29 points and 11 rebounds from Uju Ugoka, five 3-pointers and 21 points from Vanessa Panousis, and 18 points, seven rebounds and five assists from Tellier. But the rest of the Hokies (10-7, 0-4 ACC) managed just two points.
"We have to find someone else that can provide a little bit more offense," coach Dennis Wolff said.
The loss was the fifth straight for Virginia Tech, and its 20th in a row against Duke. But Ugoka smiled as she explained that she sensed a growing discomfort in the Blue Devils late in the game.
"I sensed that, actually. I did," she said. "They have something to lose. We have something to lose, too, but not like they have something to lose. I sensed that they needed the game."
The Blue Devils (18-1, 5-0 Atlantic Coast Conference) led by 15 points at the half, but the Hokies pulled within three midway through the second half, and then again in the closing seconds.
Ugoka's putback with 14.5 seconds left cut the deficit to 71-68. But with fans screaming, Liston calmly made two free throws, and then one more after Tellier hit a pair to clinch Duke's eighth straight win.
Duke led 45-30 early in the second half before Virginia rallied. Panousis' long 3-pointer with the shot clock running down made it 51-48 with 8:53 remaining, energizing the crowd of 1,760.
But Jones quieted the fans with a 17-footer to spark a 9-0 run. The Hokies went scoreless for 3½ minutes and turned the ball over three times.
The close score was a remarkable turnaround for the Hokies. Last season, they lost their two games against the Blue Devils by a combined 135-59, including a 77-33 rout at home.
Duke was playing its second game since losing All-American point guard Chelsea Gray to a fractured right kneecap. It is the second season in a row cut short for Gray and again elevated Jones to the starting lineup. As she did last year, Jones proved more than capable of running the show.
The Hokies started the day sixth in the nation in field goal percentage defense, allowing opponents to make just 33.4 percent. But the Blue Devils shot 60 percent (15 of 25) in the first half.
---
Follow Hank on twitter at: http://twitter.com/hankkurzjr