VINTAGE: Rick Hendrick Cars At B-J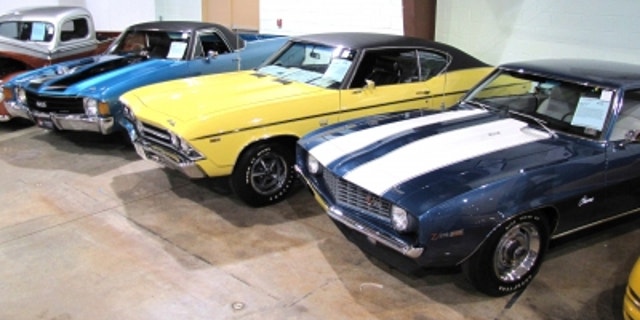 NASCAR team owner and Barrett-Jackson regular Rick Hendrick is offering 11 special cars and trucks for sale at the Palm Beach auction.
They are (click on the lot numbers to see the Barrett-Jackson catalog description and photos) :
Lot 421.1, 1972 Chevrolet El Camino SS – A rare performance model, lavishly restored and equipped with a 454cid V8 and factory four-speed.
Lot 450, 1969 Chevrolet Chevelle SS 396 coupe – In rare factory Daytona Yellow, this high-performance beauty is powered by a 350-horsepower 396cid V8 and 12-bolt Posi rear. Fresh from a recent, accurate restoration.
Lot 453, 1969 Chevrolet Camaro Z/28 coupe – Another freshly restored Chevy in Dusk Blue with white hood stripes and interior. A gorgeously correct car down to its original Rally wheels.
Lot 650, 2002 Chevrolet Corvette custom coupe – A unique custom Vette in bright yellow with all kinds of upgrades, including Lamborghini-style scissor doors.
Lot 652, 1970 Oldsmobile 442 coupe – These brawny performance cars have been climbing in interest and value, and this one is fully documented with a recent frame-off restoration. Powered by an F block 455 V8 that generates 365 horsepower.
Lot 718, 1957 Chevrolet 3100 custom pickup – Here's a honey of a truck in glistening black with a red interior and custom coilover suspension, fuel-injected Chevy crate engine, power steering, disc brakes, 17-inch American Racing wheels, etc.
Lot 719, 1970 Chevrolet Corvette coupe – Completely restored to NCRS guidelines, this award winner is powered by a 390-horsepower 454cid V8 and Turbo 400 automatic.
Lot 739, 2010 Chevrolet Camaro custom – Hendrick Motorsports built this late-model custom for country star Brad Paisley, and it's powered by a dyno-proven 457-horsepower V8.
Lot 733, 1970 Ford Mustang Boss 302 fastback – A rare Ford offered by the nation's largest Chevy dealer, this Mustang has been totally restored to factory specs right down to the correct factory chalk markings. Everything on this high-performance car is right as it left the factory.
Lot 776, 1959 Chevrolet Corvette custom convertible – Another Corvette with a Brad Paisley connection, this one featured in his "Old Alabama" music video. Power us provided by an LS1 V8.
Lot 3006, Ford F-150 King Ranch Super Crew pickup – Rick Hendrick has re-donated the truck owned and driven by former President George Bush on his Crawford, Texas, ranch, which Hendrick bought in a charity sale at the Scottsdale auction. The Palm Beach sale will again benefit the National Guard Youth Foundation.
Bob Golfen, Automotive Editor for SPEED.com, is a veteran auto writer based in Phoenix, Arizona, with a passion for collector cars, car culture and the automotive lifestyle. SPEED.com fans can email Bob Golfen at bgolfen@gmail.com