Vin Scully returns to Dodger Stadium for Ring of Honor induction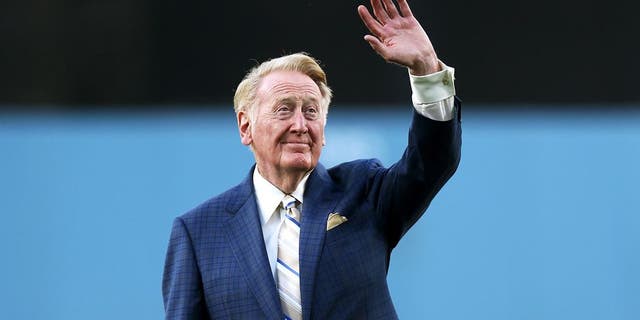 Vin Scully returned to Dodgers Stadium for Wednesday's matchup against the division rival Giants, as the legendary broadcaster was inducted into the club's Ring of Honor.
Scully retired following the 2016 season, after 67 years as the voice of the Dodgers.
The 89-year-old retiree joins 10 other Dodgers legends in the Ring of Honor, all of which are represented by circles with their numbers hanging outside of the left field loge area. In a pregame ceremony, Tommy Lasorda and Sandy Koufax unveiled Scully's circle, which bears a microphone and his name, instead of a number.
Fans who attended the game were also treated with a Vin Scully mini microphone statue.
Scully took a break from his new laid-back lifestyle to accept the honor and address the doting Dodgers fans.
He opened his brief remarks the same way he opened every broadcast. "Hi everybody, and a very pleasant and good evening to you."
According to the Los Angeles Daily News, Scully said it will be the last time he'll use the iconic phrases, and the last time he'll appear on the field. He said he and his wife Sandy will occasionally show up at games, "although nobody will know."
"I think it's easier than I thought because I'm totally and completely at peace," Scully said. "It's a remarkable feeling. It's not like, 'Gosh, I feel good. I could've done another year.' No, none of that. I'm completely at peace mentally, physically as best as I can be. I'm in the right spot of my life at the right time."