Vikings vying for playoffs with Adrian Peterson recovering from abdominal injury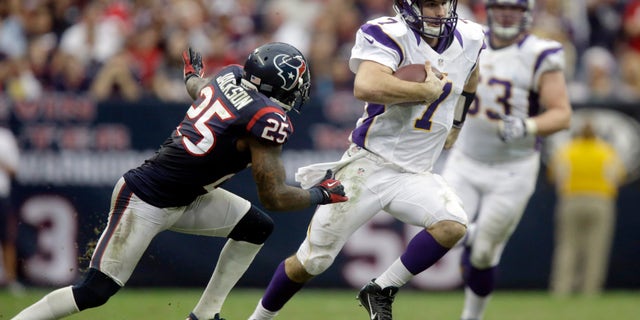 EDEN PRAIRIE, Minn. – One year ago, Minnesota Vikings coach Leslie Frazier approached the postgame news conference and was ready to bask in the glory of a pre-Christmas victory that snapped a six-game losing streak, even though star running back Adrian Peterson's career was in doubt following a major knee injury.
That was then.
Now, Peterson leads the NFL with 1,898 yards rushing and is only 207 yards away from Eric Dickerson's single-season record, and is dealing with an abdominal injury. And he says he'll be ready to help Minnesota (9-6) in its bid to earn a playoff spot with a victory over the Green Bay Packers (11-4) on Sunday.
"To go through all those tough times the last couple years to get back to where we were in '09, to a point be in the playoff hunt and be on the doorstep now; I think the best part for us is, if you really want to prove it, you win this game, you're in," linebacker Chad Greenway said. "This is everything. All the chips are in now. We wanted this. We asked for it. Let's go. Let's not be scared of it, because there's nothing to lose at this point."
With Peterson leading the way and trying to become the seventh player in league history to rush for 2,000 yards in a season — he needs 102 to join the club — Minnesota has made an unlikely late-season run to control its playoff destiny. The Vikings would clinch a postseason berth with a win over the NFC North champion Packers on Sunday. A loss by Minnesota opens several scenarios, which includes needing losses by the Chicago Bears (9-6), New York Giants (8-7) and Dallas Cowboys (8-7).
Peterson sat out the final minutes of Sunday's 23-6 win at Houston, with coach Leslie Frazier calling it a precautionary measure. He finished with 86 yards against the Texans, ending his streak of eight 100-yard games.
"Adrian is a little bit sore with his abdominal muscle," Frazier said. "We'll have to see how he does this week, how much work that we'll give him as we get ready for this ball game, which will be a huge ball game for our team."
The Vikings are also expected to have 14-year veteran cornerback Antoine Winfield available. He suffered a "small" fracture in his hand Sunday. He played through the injury, and would wear a soft cast if he goes against the Packers.
___
Online: http://pro32.ap.org/poll and http://twitter.com/AP_NFL