Vikings sign nine to practice squad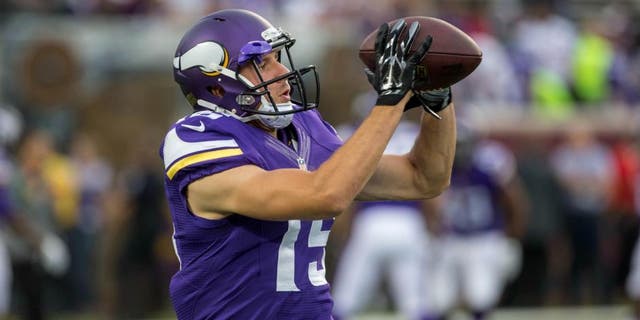 The Minnesota Vikings have signed nine young players to the practice squad, all of whom we previously with the Vikings. One practice squad spot remains open.
Four of the players signed were rookies. Defensive end B.J. DuBose, a teammate of Teddy Bridgewater's at Louisville, was drafted by the Vikings in the sixth round this year (193rd overall). Wide receiver Isaac Fruechte of Minnesota went undrafted, but caught six passes for 49 yards in the preseason. Safety Anthony Harris of Virginia is having a disappointing year after being expected to be picked in the second or third round of this year's draft, but somehow sliding out of the draft entirely. Fullback Blake Renaud of Boise State had a touchdown in the preseason, but little other highlights.
Second-year player Isame Faciane of Florida International will make good use of his time on the practice squad as he works on a difficult transition from defensive tackle to offensive lineman. Linebacker Brian Peters of Northwestern, who also played for the CFL's Saskatchewan Roughriders from 2012 to 2014, had two passes defended and two interceptions in the preseason. Running back Dominique Williams of Wagner will return to the practice squad for the second straight year after a team-high 117 yards rushing on 29 carries this preseason.
Two of the Vikings' 2014 NFL Draft picks made the list. Linebacker Brandon Watts of Georgia Tech was a seventh-round pick and has been plagued by injuries. Offensive lineman David Yankey of Stanford, who was a fifth-round selection, was only active for one game last season and had such a bad preseason that he was Pro Football Focus' lowest-rated player in the preseason.