Vikings sign K Blair Walsh to four-year, $14M deal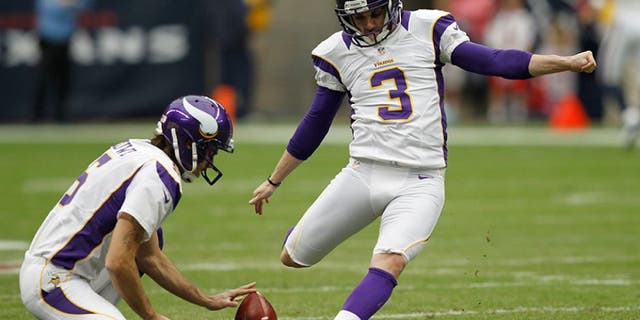 The Minnesota Vikings announced they signed kicker Blair Walsh to a contract extension on Sunday.
Walsh signed a four-year deal worth a maximum of $14 million with $5.25 million guaranteed, FOX Sports 1's NFL insider Mike Garafolo reported. The new deal now makes Walsh one of the top 5 highest paid kickers in the league.
"I'm extremely excited to be a part of the Minnesota Vikings moving forward," Walsh said via a team released statement. "I'd like to thank Rick Spielman, the Wilf family, Coach Zimmer, Coach Priefer and Rob Brzezinski for giving me this opportunity. I'm proud to be able to stay with the team that drafted me coming out of college and I look forward to what is in store for the future of this organization."
Walsh was selected in the sixth round of the 2012 NFL Draft from Georgia.
"Blair has been a vital part of our special teams success since we drafted him and we felt it was very important to secure his future with our organization," general manager Rick Spielman said. "His consistency on kickoffs and on long range field goals can help change the game for our team and we're excited for his future here in Minnesota. This extension stays true to our philosophy of drafting young talent, developing them in our system and rewarding their success."