Vikings say goodbye to Peterson after 10 seasons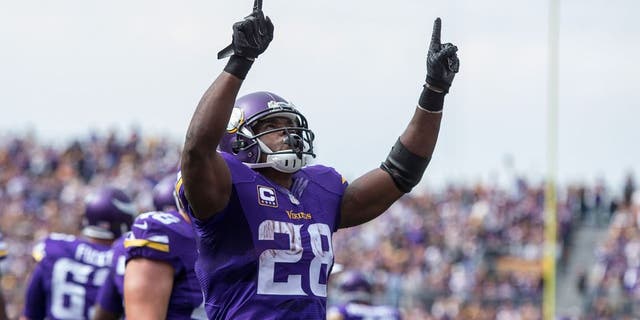 EDEN PRAIRIE, Minn. -- The Minnesota Vikings finally said their official goodbyes to longtime franchise pillar Adrian Peterson on Tuesday, but it won't be long until they see him again.
Peterson signed a two-year deal with the New Orleans Saints on Tuesday, a move that sets up a Week 1 reunion on Sept. 11 when the Vikings host the Saints on Monday Night Football. Peterson spent the first 10 seasons of his career with the Vikings, rushing for 11,747 yards and 97 touchdowns and serving as the offensive focal point for most of his time here.
Peterson's exit appeared to be a foregone conclusion when he played in just three games because of a knee injury in 2016 and the Vikings started to retool the offense around quarterback Sam Bradford. Peterson is 32 and missed nearly all of 2014 while being mired in an ugly child abuse case, but that did little to diminish the kind words extended toward him by the organization on Tuesday.
"Adrian, to me, is, since I've been here, the greatest Minnesota Viking to put on that uniform," said Vikings general manager Rick Spielman, who has been with the team since 2006. "He's a Hall of Fame player. He will go down in history as one of the greatest rushers in the NFL, if not the greatest. Unique individual. Great person. We were very fortunate and feel very blessed that we were part of his entire career here at Minnesota."
Peterson set the NFL single-game rushing record with 296 yards against the Chargers as a rookie in 2007, teamed with Brett Favre to lead to the Vikings to the NFC championship game after the 2009 season and came back from a horrific knee injury to rush for 2,097 yards and win the MVP award in 2012.
"I was only here a year with Adrian, but obviously he's been a fixture in this building and the community for a long time," Bradford said. "Anytime someone like that says goodbye, it's tough. It is a business. I hope everyone understands that. But for the people here who have enjoyed watching him play and got to watch him do some of the special things that he's done, it's always going to be tough watching him play for another team. That being said, we wish him well and hope he goes down there and has a great year for them."
The easygoing, approachable superstar was the most popular Viking since Randy Moss was running fly patterns in the late 1990s and early 2000s. His squeaky clean image took a serious hit in 2014 when he sat out the final 15 games while facing charges of striking his 4-year-old son with a wooden switch. But he returned to rush for an NFL-leading 1,485 yards and 11 touchdowns in 2015, and there were still hundreds of No. 28 jerseys in the stands in his final season in purple.
"Adrian was a guy that was quiet, but you ask him anything and he won't be afraid to tell you the truth," cornerback Xavier Rhodes said. "He'll tell you how it is, tell you about his experience, his testimony and everything. That type of guy you need around. He was also a leader. Once we needed that person to speak up, he was that guy."
Some of the defensive players on the team said they can't wait for the chance to tackle Peterson in Week 1 after spending so many years unable to do so in practice because coaches did not want to risk injuring the most important offensive player.
"It's hard to see him go, but at the same time, it's going to be fun going out there and finally being able to go hit him," defensive end Everson Griffen said. "We always talked about it. You were never able to touch him in practice."
The Vikings have been planning for life without Peterson. Jerick McKinnon led the team with 539 yards rushing last season and the team signed free agent Latavius Murray away from the Raiders to bolster the depth at the position.
They could also look to take another running back in the draft, which begins Thursday. The Vikings do not have a selection in the first round, but Spielman said the team has done its homework on Oklahoma running back Joe Mixon, a supremely talented player who could be available when the Vikings are on the clock with the 48th overall pick in the second round.
Mixon was suspended for a year after punching a woman in the face in 2014 and the incident was rekindled in December when video of the altercation became public. Spielman would not say if they have taken Mixon off of their draft board.
"It makes it hard to watch, to be honest with you," Spielman said. "But I don't think you can take it less lightly if it's not on video. It's still the same situation whether it was on video or not."