Vikings receiver Patterson focusing on fundamentals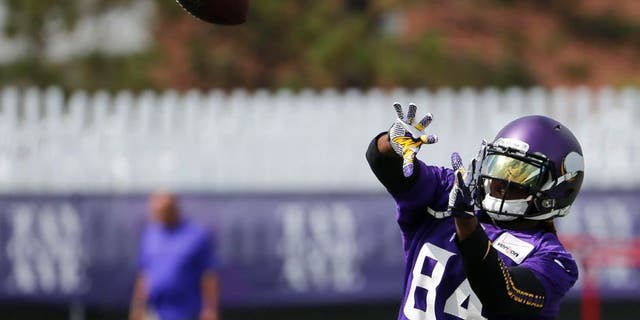 NEWYou can now listen to Fox News articles!
Cordarrelle Patterson dreams of catching touchdown passes.
"In my dreams last night, probably four, opening game in the new dome," the wide receiver recently said.
In order to remain a member of the Minnesota Vikings he'll need to start catching them in real life.
"It's getting better, man. You know, it's just one step at a time," Patterson said. "It don't happen overnight; you've gotta put a lot of work in."
Patterson made a splash as a rookie in 2013 with his dazzling speed and offensive versatility, setting an NFL record in just the seventh game of his career after taking the opening kickoff against Green Bay 109 yards for a touchdown.
It was the longest play in NFL history.
He would go on to rack up 45 catches for 469 yards with four touchdowns, as well as 153 rushing yards with three touchdowns, that season.
Rick Spielman's gamble appeared to have paid dividends after the Vikings general manager sent a treasure trove of draft picks to the New England Patriots to nab the former Tennessee star with the 29th overall pick.
But while the products of those picks, specifically linebacker Jamie Collins and cornerback Logan Ryan, have emerged as key pieces of the Patriots' defense, Patterson is now struggling to get on the field.
Despite duplicating his rookie season with two more kick return touchdowns in 2015, Patterson hauled in just two catches for 10 yards during his third season with the Vikings, as rookie Stefon Diggs became the new face of Minnesota's receiving corps.
At the end of the season, 12 Vikings would finish with more receiving yards than Patterson, including third-string tight end McCole Pruitt and fullback Zach Line.
However, Patterson recognizes his faults, and said that he's focusing in on one of the biggest barriers to his success as an NFL receiver.
"Just route-running, that's really all I've been paying attention to, man," Patterson said. "Just getting in and out of breaks, focusing on the ball, being where I need to be and making sure I'm lined up right."
But after failing to make much progress as a receiver in 2014 and seeing his numbers crater in 2015, head coach Mike Zimmer and the Vikings' brass could be running out of patience despite Patterson's athletic ability.
The Vikings drafted another promising receiver in the first round of the 2016 NFL Draft, selecting Ole Miss standout Laquon Treadwell. They also declined the fifth-year option on Patterson's contract, making 2016 the final year of his rookie deal.
"Somebody said it's a make-or-break year. I don't know if it is or not," Patterson said. "I'd love to be here if the timing's right, but if not I'll take my talents somewhere else. I would love to be here, that's why I've been here three, going on four, years."