Vikings O-lineman: Teddy Bridgewater is a 'warrior'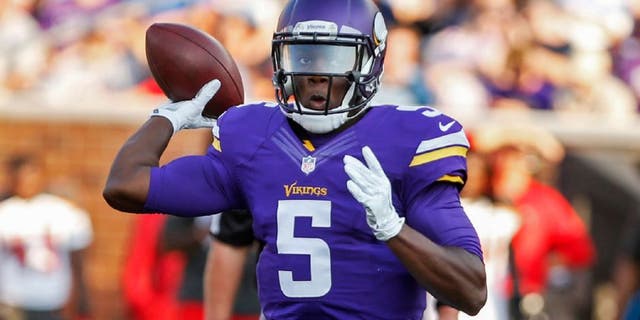 NEWYou can now listen to Fox News articles!
Vikings quarterback Teddy Bridgewater gives his team a chance to win. Bruce Kluckhohn USA TODAY Sports
A quarterback must earn the respect of those who protect him. It's essential to his survival in the pocket, with vicious pass-rushers constantly hunting for knockout blows.
Minnesota Vikings quarterback Teddy Bridgewater seems to have earned the respect of his offensive linemen. Guard Brandon Fusco spoke very highly of the player he's paid to protect.
"Teddy is a warrior," Fusco said, per Eric Oslund of Scout.com. "He's a positive guy. No matter what happens he's going to forget about the last play and move onto the next. So if one of us messes up, we're going to be up there the next play and make sure to protect him and do our job. We have all the trust in him and he's a great quarterback."
Bridgewater, a first-round pick in last year's draft, has become an efficient starting quarterback. He's not going to rack up huge passing stats (194 yards per game in 2015; 32nd in NFL), but he is smart and keeps the offense moving with a high completion rate (67.0 percent; 12th in NFL).
Most of all, Bridgewater's teammates appreciate him because he gives the Vikings a legitimate chance to win games.
MORE NEWS: Want stories delivered to you? Sign up for our NFL newsletters.