Vikings GM Spielman talks parity, draft strategy at NFL Combine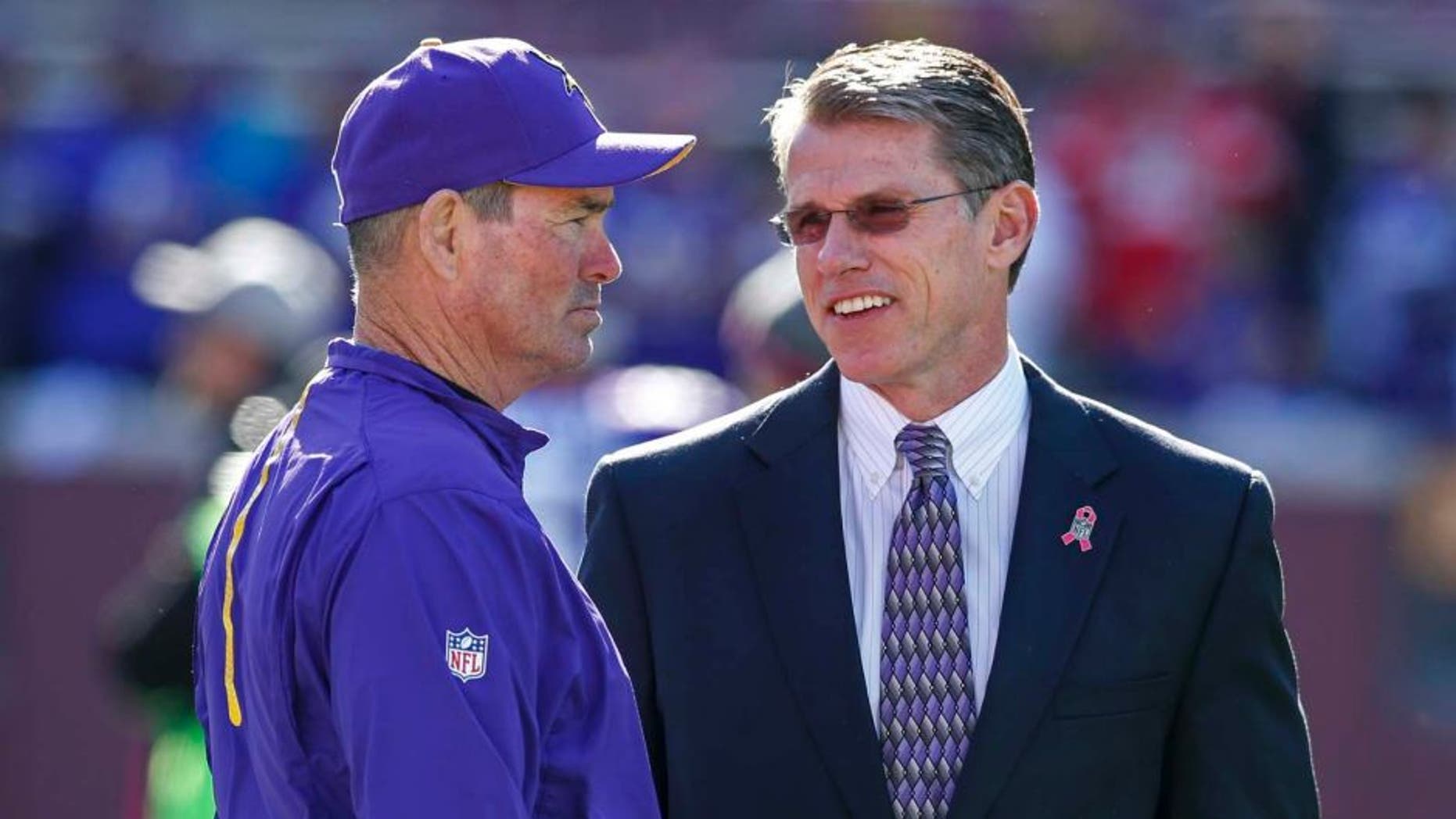 The Minnesota Vikings and the Green Bay Packers may have combined to win eight of the last 10 NFC North titles, but Vikings general manager Rick Spielman says that the division is still wide open heading into 2016.
"I think Detroit has a very good football team. And Chicago, I have the utmost respect for what John Fox has done everywhere where he's been," Spielman told reporters at a press conference on Wednesday. "I think it's going to be a very competitive division next year.
The Vikings boss was on hand to discuss the state of the division, as well as the Vikings' offseason plans ahead of the NFL Combine.
"What we did last year doesn't matter," he said. "It's what we're going to do going forward, and that's the approach we're going to have to take."
Spielman praised the progress that the team has made since an organizational reboot brought head coach Mike Zimmer, offensive coordinator Norv Turner and quarterback Teddy Bridgewater to Minnesota in 2014, a group that eventually carried the Vikings back to the playoffs last season.
"The communication between myself, the scouting department, the coaching department, I think has paid dividends over the past couple years," Spielman said. "There's a clear distinct trait we're looking for in football players that fit what we're doing from a scheme standpoint offensively and defensively."
But Spielman deserves plenty of credit as well.
A noted strategist on draft day, Spielman has parlayed a war chest of Vikings draft picks into several extra first round selections over the last few years, trading up and into the back half of the first round in 2012, 2013 and 2014.
"When there are players we feel strongly about, that we think can be potential unique players for us and building blocks for our future, and then and having a sense that maybe, we were higher in the second, but they're potentially not going to get to you there, to be aggressive and go get the player you covet," Spielman said.
The moves have paid off more often than not, bringing Harrison Smith and Bridgewater to Minnesota, while the jury is still out on gifted special-teamer and struggling receiver Cordarrelle Patterson.
"I've talked to Cordarrelle, I've talked to his agents, we've had our meetings, and Cordarrelle has to come in and, I think his mindset is he knows he has to come in and become a better receiver, a little bit more consistent receiver on just the nuances part of the game," Spielman said. "There's no question about what type of athlete he is. There's no question about the explosive, play-making ability he has with the ball in his hand. It's just a matter of, 'Is he going to be able to take that next step or not?'"
And while Patterson may not be developing quite as quickly as the Vikings would hope, look for Spielman and the Vikings to keep making moves as the draft approaches.