Vikings G Alex Boone on head injuries: 'I know what's going to happen to me someday'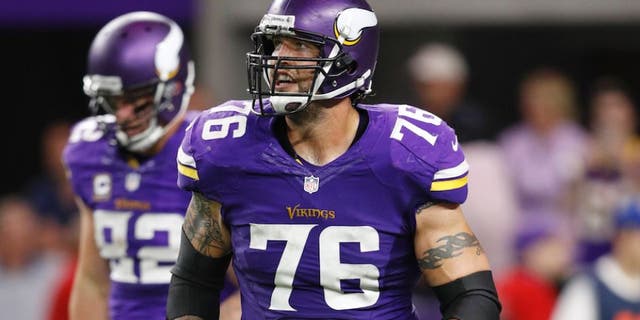 After being forced to sit out the Minnesota-Detroit game this past Sunday with a concussion, Vikings guard Alex Boone took some time to reflect on his career and also his headwear.
For his entire football life he's been wearing an older, antiquated model out of familiarity, but now he's agreed to to "upgrade to this new fancy thing that I'm not excited about," Boone told TwinCities.com.
But the 29-year-old believes the change is worthwhile for the sake of his long-term health and well-being.
"This is a brutal game," Boone said. "I'm at a position where you're getting hit constantly in the head. It's one of those things where I know what's going to happen to me someday. I signed up for this a long time ago, and I love this game more than anything. I know what's going to happen, but at the end of the day, if I can try to help myself be smarter and be better, then I will."
Boone is now going through the league's concussion protocol which he called "annoying," but understands it's a process.
One recent study showed that offensive linemen often suffer "subconcussive" hits given their frequent contact with defensive lineman and linebackers in close quarters. But because the hits are so routine and lower-impact -- and don't trigger the more obvious concussion symptoms -- they often go unreported.
Also, lineman like Boone and Giants guard Justin Pugh are reluctant to come out of the game and break up the unit's chemistry. Pugh told the MMQB's Jenny Vrentas in October 2014:
"Since there are normally just five guys that play the offensive line position, a lot of times you just don't want to come out of the game at all," Pugh said. "As a defensive lineman, you can come out for a few plays, and you rotate, so it is part of the norm. With us, I won't say it's frowned upon, but no guy wants to come out of the game and hurt the chemistry of the team or hurt a good drive."