Vikings batter Eli and the Giants, clinch playoff spot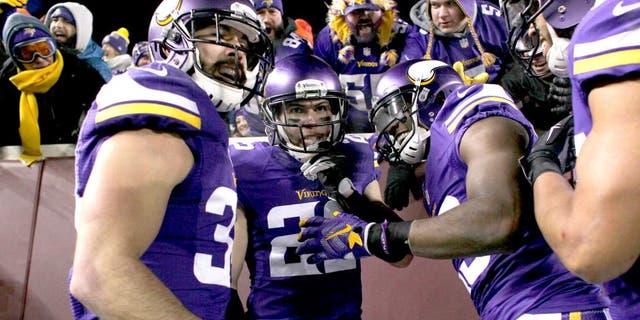 NEWYou can now listen to Fox News articles!
MINNEAPOLIS
The Minnesota Vikings have secured a place in the postseason, playing as if they're poised for more than a token appearance.
Adrian Peterson ran for 104 yards and a touchdown over three quarters, Harrison Smith took one of Eli Manning's three interceptions into the end zone and the Vikings clinched at least a wild card spot with a 49-17 victory over the listless New York Giants on a frigid Sunday night.
Teddy Bridgewater turned in another sharp December performance, Blair Walsh chipped in five field goals and the Vikings (10-5) set up an NFC North championship game next week at Green Bay. That game, like this one, was moved to the Sunday night slot.
With Peterson relaxing on the sideline, Jerick McKinnon rushed for two touchdowns in the fourth quarter, including a 68-yard romp through a disinterested defense with the temperature down to 11 degrees.
Manning badly missed suspended wide receiver Odell Beckham Jr. and his 1,396 yards and 13 touchdowns, as the Giants (6-9) trudged toward a fourth straight absence from the postseason.
The night wrapped up a rough week-plus for the Giants, who had control of the diluted, wide-open NFC East for much of the season until dropping five of their last six games. The day after their rally at then-undefeated Carolina fell three points short, Beckham was suspended by the NFL for multiple violations of safety-related playing rules. That stemmed from the tussles with Panthers cornerback Josh Norman.
There wasn't much fight left in the Giants for this.
Washington's win over Philadelphia on Saturday night ended the division race, rendering the outcome meaningless. By the time the Vikings built their lead into double digits on Smith's 35-yard return of Manning's overthrow for Rueben Randle late in the second quarter, the Giants looked ready for their winter vacations.
After winning the Super Bowl following the 2011 season, the Giants have gone just 28-35.
Manning finished 15 for 29 for 234 yards, boosted by a 50-yard pass to Rashad Jennings that set up an early field goal and a 72-yard touchdown heave to Randle made possible by a botched tackle by Andrew Sendejo, who had the first interception. Backup Ryan Nassib tacked on a late score with a pass to Myles White, but Manning was sacked four times and was hindered by a handful of drops by his receivers in these tough-to-catch conditions. He fumbled a shotgun snap, too.
Bridgewater went 15 for 25 for 168 yards and a touchdown to Kyle Rudolph, delivering precise, under-pressure passes at just the right times and avoiding the turnovers that dogged Manning.
The Vikings reached the playoffs for the first time in three years with their highest score since a 50-10 victory over Jacksonville on Dec. 20, 1998, giving them an 87-34 margin of victory over the last two weeks. Smith, linebacker Anthony Barr and nose tackle Linval Joseph all returned from injuries, putting the Vikings back at full strength on defense heading into the rematch with the Packers.
Beat Green Bay, and they're the No. 3 seed in the NFC with a home game against Seattle. Lose, and they're a wild-card team with a trip to Green Bay or Washington.