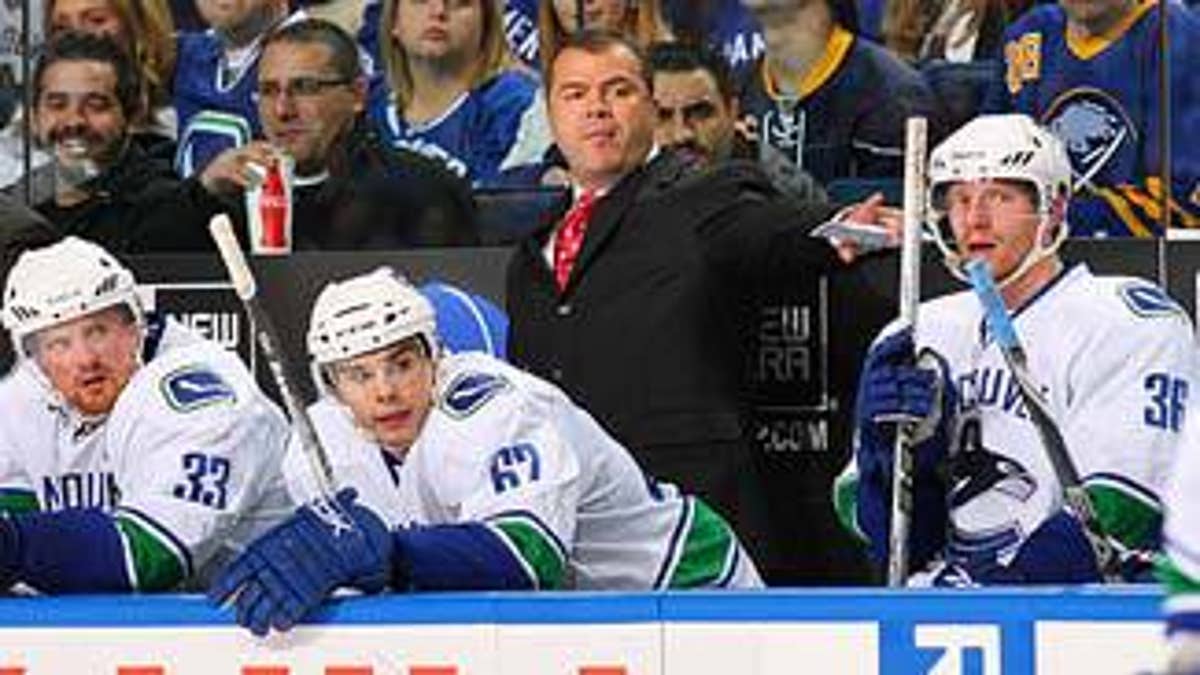 CHICAGO -- Alain Vigneault has barely shown a pulse in this series against Chicago, let alone some emotion. Vancouver's bench boss has been extraordinarily reserved in his comments and consistent in his message that this is all part of a process and the Canucks are staying true to it.
The fact that they're up 3-0 and can close out the defending Stanley Cup champions in Game 4 Tuesday is only a minor story in the big picture.
"As a group everybody is trying to learn and put it all together," Vigneault said on Monday.
Oh sure, Vigneault has his moments of candor and comedy, such as when he starts conducting impromptu French lessons toward the end of his press conferences, chiding an English-speaking reporter who is trying to ask a question in French.
For the record, Vigneault will not answer in French unless he is asked in French, and the reporter is getting better.
He also embraces the fact he's not giving the scribes covering the series much for their notebooks, laughing as he admits that his clichés might be boring but they are in fact what he believes.
His lines about learning from the past and how if you do, "it doesn't necessarily dictate your future," have probably been his most in depth because they speak to what the Canucks have gone through in past postseasons against the Blackhawks.
But what needs to be remembered is this is precisely the type of public figure Vigneault wants to be right now, and exactly the type of coach he's been since arriving in Vancouver in 2006.
His messages, systems, approach and goals have never changed. Four-and-a-half years into his tenure, the Canucks might very well be on their way to a special spring as a result of all that.
"I've been with this group now for five years, with the core players and some players even six years with my years in Winnipeg," said Vigneault, who turns 50 on May 14. "We've pretty much grown together as far as improving and getting better both individually and as a group. I think this core group is very responsible, very accountable. They've grown into that and they are excited and ready for the opportunity that is in front of us right now."
Vigneault came to the Canucks in 2006 after serving time coaching their minor league club in Manitoba. He came to them with 109 coaching victories on his NHL resume (all with Montreal), but none since 2000. He came with the hope that he could use his second chance in the NHL to turn around a team that failed to make the playoffs the season before.
The first year it worked and he won the Jack Adams Award. The second year it didn't and Vancouver failed to make the playoffs again.
Vigneault never wavered, and the Canucks, with new GM Mike Gillis' blessing, never lost faith in their bench boss.
It's paying off now.
The Presidents' Trophy-winning Canucks, who have won three straight Northwest Division titles under Vigneault, say they are responsible and accountable because Vigneault lets them be. He leaves it up to the core leaders of this team -- namely Henrik Sedin, Daniel Sedin, Ryan Kesler and Roberto Luongo -- to carry the load in the dressing room so he can focus on preparing them for their next game.
And make no mistake, with Vigneault it's all about the next game. There is no looking ahead, or for that matter, looking behind either.
"We have a lot of respect for him," Henrik Sedin told NHL.com. "He treats us extremely well. He knows when to come in and say stuff, and he knows when we can take care of it ourselves. I think that's the sign of a good coach. He's been with us throughout this whole journey and we've learned how to treat each other."
The journey began four-and-a-half years ago, when the Sedin twins were only starting to show their true potential, when Kesler was known more as a grinder, and when Luongo was starting his first season with the Canucks.
The Sedins both finished with more than 80 points for the first time and Luongo won 35 games as the Canucks won the Northwest Division with 105 points before bowing out of the playoffs in the second round to Anaheim, which went on to win the Stanley Cup.
Eight players from the 2006-07 Canucks' squad have played for them in this series against the Blackhawks. It was just the start.
"We are a better team now," Henrik Sedin said. "We have a more offensive team. Back when he took over we had trouble scoring goals and that's why a lot of people saw him as a defensive-minded coach. We play the same system now, but we have better players."
Players who Vigneault puts complete trust in. That's not necessarily the easiest thing for a coach to do, but the Canucks feel it's one of Vigneault's best traits.
"He's a very professional coach," Kesler said. "He's a good leader and that's what you need in a coach."
Rarely does Vigneault have a meeting with his leadership group that doesn't include a question and answer session, with him asking his players what they think about this or that.
"That's the way it should be," Henrik Sedin said.
"He leaves it pretty much up to the guys to work it out, and I like that," veteran forward Mikael Samuelsson told NHL.com. "That creates responsibility for the guys."
Christopher Higgins admitted he didn't know much about Vigneault prior to arriving in Vancouver at the trade deadline this year, but it didn't take long for him to like his new coach.
"He seems to know he has a good locker room with this team," Higgins told NHL.com, "and he doesn't get overly excited."
Seeing him in this first-round series makes you wonder if he gets excited at all.
"Well, that changes," Samuelsson said, laughing. "That definitely changes from time to time. It depends what mood he's in, or how good or how bad we play, I guess.
"If it goes our way, he's funny -- this year, he's great."
Follow Dan Rosen on Twitter at: @drosennhl