VIDEO: Showers speaking about recruiting uptick for Gators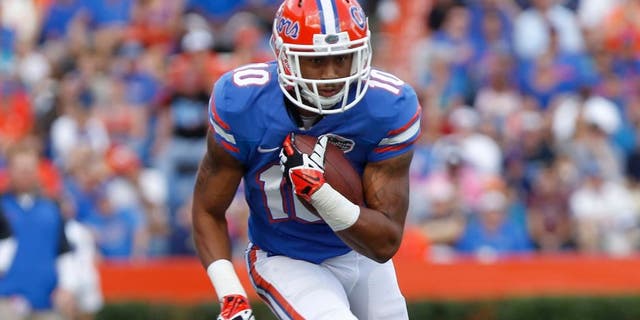 NEWYou can now listen to Fox News articles!
A ringing endorsement from a current player could go a long ways in helping the recruiting efforts of any team. In the case of Florida receiver Valdez Showers, the senior is thrilled at the current state of the program.
New head coach Jim McElwain has injected both energy and excitement into 'The Swamp.' It's a tangible feeling that's encapsulated the team and fan base alike.
Showers spoke to the media about the program as whole, and offered up his take as to why recruits should flock to Florida.
As it currently stands, McElwain has put together the fifth-best recruiting class in the SEC (courtesy of Scout.com). It also ranks as the No. 14 class overall in the country. Should the Gators continue to win at their current clip, these rankings should rise steadily.
Also to note, McElwain has proven to close quite strongly when it comes to recruiting. Seven current Gators announced their decisions to attend Florida on National Signing Day a season ago, including the likes of CeCe Jefferson, Martez Ivey, Jordan Cronkrite, and Antonio Callaway.