Video appears to show man hit woman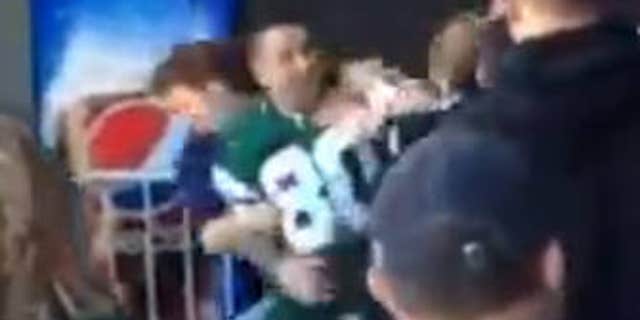 UPDATE (9 p.m. ET, 10/21) : A report later Monday in the New York Daily News identified the alleged assailant as Kurt Paschke, a Long Island man who reportedly did time in the 1990's for fatally stabbing another man. The story also features Paschke's mom defending her son's actions, saying he was coming to her defense in that incident.
Tensions were running high after the New York Jets pulled off a 30-27 OT stunner over the rival New England Patriots on Sunday.
And we're not talking between the players and officials following that controversial ruling at the end of the game. We're talking between the fans in the exits.
One Jets fan, sporting a Wayne Chrebet jersey, found himself in a skirmish apparently on the way out of MetLife Stadium. As some others move him away from the fracas, a female who appears to be a New England fan kept after him. He responded by apparently and reportedly punching her in the face.
Warning: The video below shows the entire scene, but it could be disturbing to some viewers .
Security doesn't appear anywhere in the video, but a Jets spokesman told the New York Daily News : "We are aware of the situation and we do not tolerate that behavior. Parties involved were detained and this matter is now in the hands of the New Jersey State Police."
State police confirmed the incident was under investigation, but said no arrests had been made.
The original article can be found at FOXSports.com: Video appears to show man hit woman.