Victor Garcia: US Soccer -Will the Big Win Over Italy Help Launch the Sport?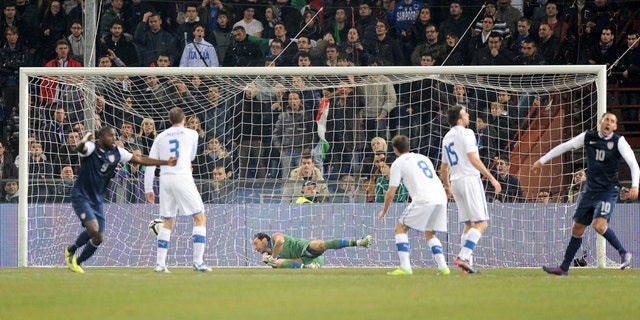 We did it!
After 78 years we beat the famed Italy soccer team, a global powerhouse.
Let's forget that it was a friendly. Let's put aside the fact that if the United State's men's team hadn't won no-one would have cared.
Let's put aside the fact that U.S. soccer has had trouble getting attention in our very own country.
Scratch that, that's exactly the point. Most Americans and a large part of Latinos like me born and bred in the states don't care about soccer unless we're on the verge of actually winning something big.
Every few years or so we get into the World Cup for just a second until the men are eliminated, or when the women make a long run and either win or get so close like they did a year ago. We cheer. We rally but that's because we love our country and are proud Americans.
The majority of Americans do not care about soccer.
If you asked ten people on the street in time square who won the Major League Soccer championship, 9.5 out of 10 couldn't tell you.
It was the Los Angeles Galaxy by the way.
Am I happy the American men's squad beat Italy? Yes. But I'm also happy when the Dallas Cowboys beat the Houston Texans in the preseason. But it's the preseason so I don't go running around like they won the Super Bowl.
The Italy match up was a friendly, it doesn't mean anything and, sorry soccer fans, but it will give you no momentum with people who don't care about watching a live version of the game Ping.
I respect soccer, I really do and when it comes to a highlight reel kick or a big tourney that my country is in. But for me, like most Americans, soccer is a kid's game that has to have real political meaning or significance in order to get my attention.
To the rest of the world… you can have your soccer, your fútbol. Keep your English Premier League, your FIFA, your CONCAF, and whatever other governing bodies you have.
I'll stick with football, baseball, hockey and basketball.
To the soccer players representing my country, give 'em hell! Know that I support you as a representation of my nation.
But I believe Americans are over soccer, if they ever were really into it at all.
Follow @MrVicGarcia on twitter.
Follow us on twitter.com/foxnewslatino
Like us at facebook.com/foxnewslatino