Victor Espinoza celebrates historic Triple Crown win like a star, throws pitch at Yankees game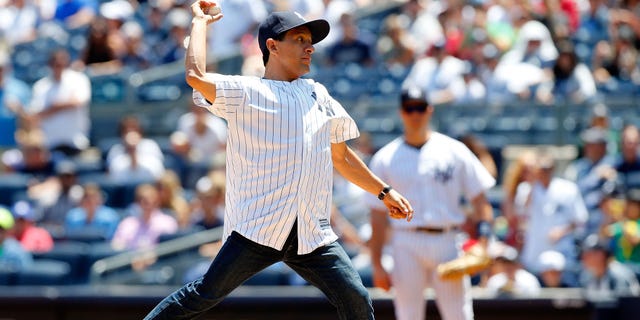 Triple Crown winning jockey Victor Espinoza is living the high life after his historic win at Belmont.
The Mexican jockey, who became the first Latino to win the Triple Crown during Sunday's race with American Pharoah, has been celebrating since he crossed the finish line on Saturday.
After leaving Belmont, Espinoza, 43, celebrated with fiancée Stephanie Kunkel and family during a dinner at an undisclosed New York eatery.
Kunkel's mother Julie shared photos of the lovebirds during their dinner to the New York Post, which showed them cozy together after the race.
"She had a great time," Kunkel's mom told the Post. She added that her daughter was Espinoza's good luck charm.
"Victor won for Stephanie," Julie Kunkel said. "Stephanie has always been his lucky charm and told him to win the Triple Crown."
On Sunday, after a short press conference at Belmont, Espinoza (and Kunkel) were at Yankee Stadium to throw the ceremonial first pitch for the Yanks' game against the Los Angeles Angles.
He will also be making an appearance at "The Tonight Show" with Jimmy Fallon later this week.
The Post also reported that New York's legendary eatery 21 Club will be added a statue of the jockey on its exterior in honor of Espinoza's Triple Crown win.
The restaurant, which has 33 statutes donated by leading American stables, says the tradition to showcase the jockey figures started when a longtime patron gave the club a statue in the early 1930s.
Espinoza, who sought the Triple Crown in two previous occasions, told Fox News Latino on Sunday that American Pharoah was a "special horse."
"It's so hard to win this race. After last year, (I thought) if the right horse comes along, it will happen," he said. "That's why it's so unique and special. You have to have a special horse to win this race."
With their win, Espinoza and American Pharoah ended a 37-year Triple Crown drought.