Victor Cruz practices in team drills, won't play preseason opener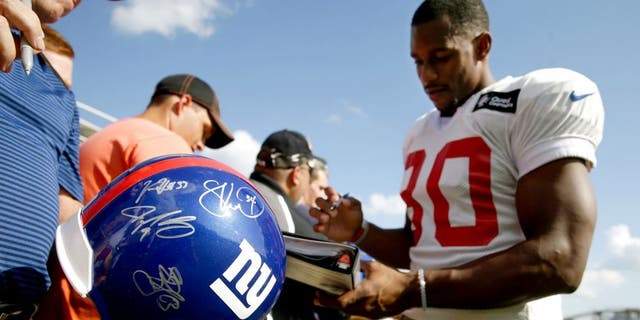 After only participating in individual drills during the first joint practice with the Bengals on Tuesday, New York Giants wide receiver Victor Cruz ramped up his activity during Wednesday's practice. Cruz participated in team drills against the Bengals' first team defense. He wasn't targeted, but according to beat writers, he moved well and showed no signs of playing tentatively.
In the following videos from Wednesday's practice, you can see Cruz moving without any restrictions in live action against the Bengals:
In another drill, as captured in the image below, Cruz beats Bengals cornerback Darqueze Dennard by creating separation at the stem of his route. Cruz told reporter Art Stapleton after practice that this was his best route of the summer. You can check it out here:
After practice, Cruz told reporters that he experienced no pain during or after practice. Regardless, the Giants will continue to play it safe. Head coach Tom Coughlin confirmed that Cruz will not play in the Giants' preseason opener against the Bengals on Friday night.
Wednesday's practice was a major step forward for Cruz in his comeback to the NFL. He will look to string together more live repetitions in team drills going forward, and the ultimate goal for Cruz is to compete in at least one preseason game. With the start of the regular season still a little over one month away, it's starting to look like No. 80 will be lining up in Week 1.
(h/t @Art_Stapleton, @EbenezerSamuel23, @Giants)