VHT compound unchartered waters at Charlotte Motor Speedway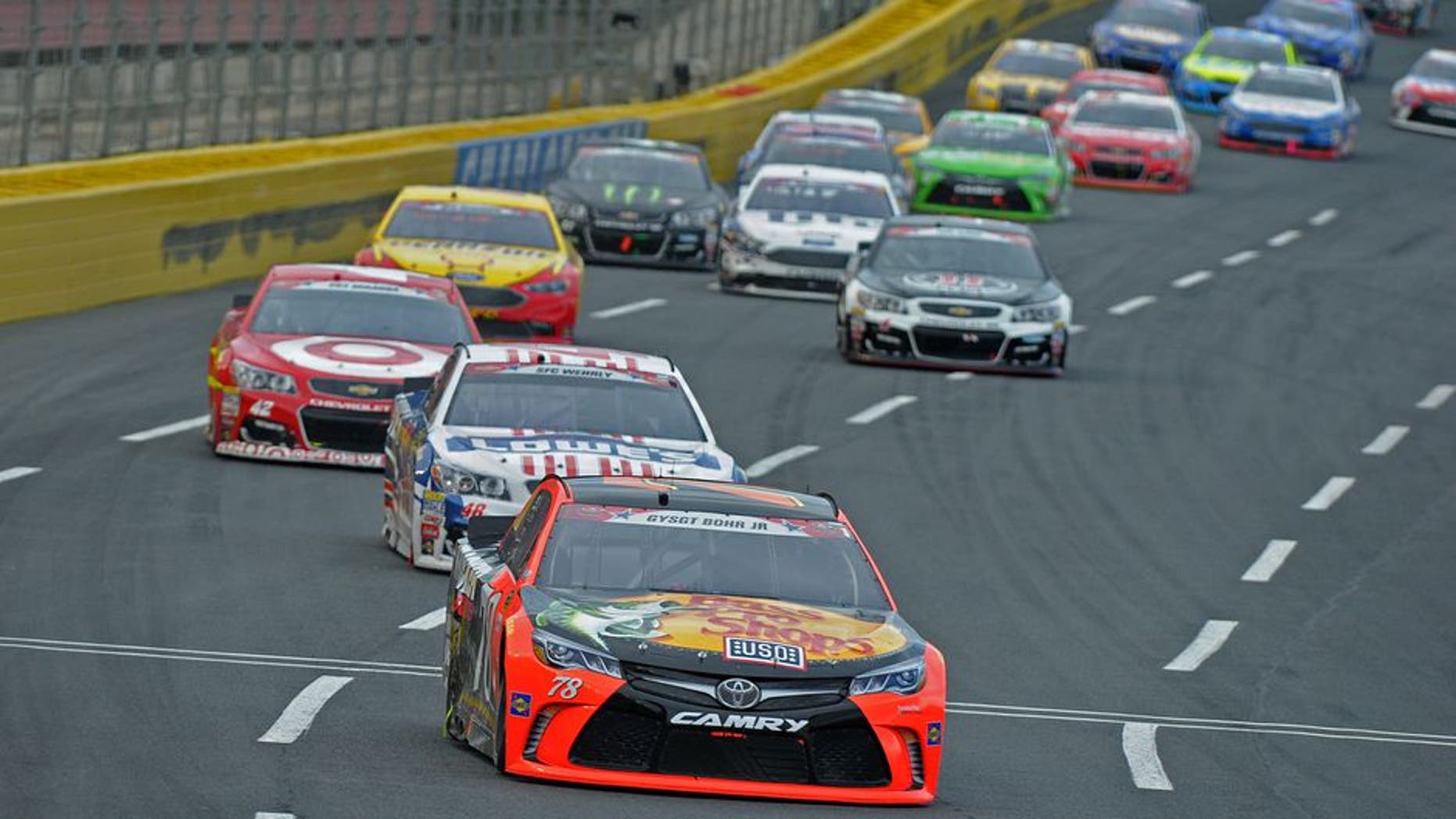 VHT compound has become a familiar term with NASCAR fans as the sticky substance has become a mainstay on the lower groove at Bristol Motor Speedway in recent years.
After an All-Star Race at Charlotte Motor Speedway that lacked much passing, the compound has been added to the 1.5-mile surface for the Coca-Cola 600 (Sunday, 5:30 p.m. ET on FOX).
In the opening practice on Thursday at Charlotte, drivers got their first test of the substance at a speedway. Although, it was a limited one as most drivers ran mock qualifying attempts for the hour and a half session.
I got into a little bit there in Turns 3 and 4 coming to the green for qualifying runs, Kyle Busch said of the VHT compound. The track was really light to begin with. They run the tire dragon around here and it doesnt give much to the track, maybe they need to add more pressure. The cars were starting to put the rubber down as practice progressed. You get outside of that black and its pretty slick. Im not sure we can groom (the VHT) in here in one weekend.
Jim Dedmon-USA TODAY Sports | Jim Dedmon
One of the biggest issues with the substance is that it needs heat to work and when its out of the preferred line, drivers have to simply trust that itll hold for them.
You dont know how that substance they use is going to combine with asphalt, Ryan Blaney said. Im curious to see how that does and its very heat-activated. At Bristol, were going to be running the bottom regardless. Thats why it worked so well on the bottom there and here Im wondering what its gonna be like when were running 200 miles an hour into the top lane and hoping its hot enough to stick. Thats gonna be a little sketchy at first, but, like I said before, I thought NASCAR had to make a move on that side of it to get us off the bottom of the race track or at least give you options.
The addition of options to make racing better is always a move in the right direction for NASCAR and according to Kurt Busch, there werent many other options.
You have (extra grip) on entry but you lose it on the apex, Kurt Busch said. We go back to tracks and VHT is added and you say make better tires but theres nothing wrong with the tires. It turns into drag racing. You have to warm it up and put heat into it. It makes it inconsistent if youre running through it and then not running through it.
The opening practice session didnt provide much additional information on how itll come in at night with more cars on track so its a waiting game for everyone on how itll work.
Well find out. Its kind of unchartered waters, to be honest with you. Bristol is a lot different, a lot shorter race track, were not going as fast, a concrete race track, Blaney said. Like I said, we saw it in the All-Star Race where it was just bottom-feeding. This will hopefully help it out, but I dont know much about it.