Veteran Giants starter Jake Peavy makes promise for 2016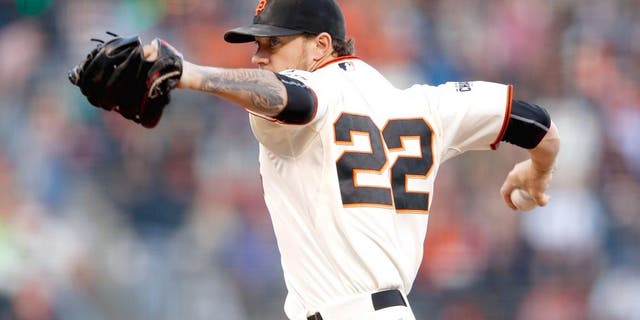 NEWYou can now listen to Fox News articles!
Jake Peavy had a solid season for the San Francisco Giants this year, but he's looking beyond his recent accomplishments and already has his sights set on 2016 with the Giants eliminated from the playoffs.
Peavy was 8-6 with a 3.58 ERA this season, but was limited to only 110 2/3 innings due to a back injury that forced him to miss more than a month in the early stages of the season.
The 34-year-old righty is eager to produce for the Giants on a consistent basis next season.
"I promise you, I expect to show up and throw 200 innings as I always do," Peavy said of the forthcoming season.
Although Peavy is disappointed that the Giants missed out on a chance to defend their World Series title, he plans to savor the extra month off and get himself in shape for another run next year.
"I'm excited to catch my breath and have a full winter," he said. "I'll be ready to go. My back was such a funny thing at the start of the season and it was almost a fluke thing. It's a non-issue [now]. I'm going to be as big and strong as I can be and I'll be ready to go in camp.
"The extra time, although it's not what you want, will be nice."