Vernon Davis thought the Broncos traded for him so he could play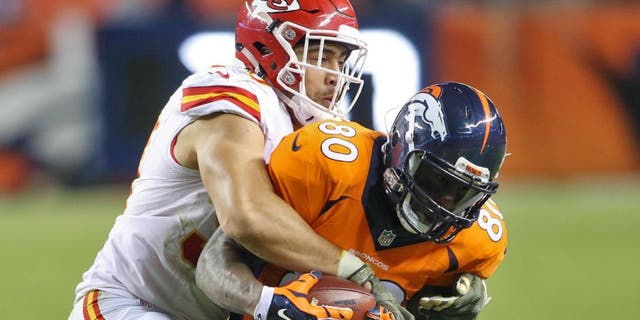 Don't ask Vernon Davis to explain his involvement (or lack thereof) in his new team's offense. He just doesn't get it. Chris Humphreys USA TODAY Sports
By the time Vernon Davis caught his first pass in orange and blue, it was too late.
The Broncos were trailing by 29 points. Peyton Manning was already pulled from the game. And for the life of him, the newly-acquired tight end can't figure it out.
"I thought I was going to play a lot, too," Davis told 9News Denver's Mike Klis. "I was confused. I thought I would play a lot more than that. Very confused.''
Davis was as invisible at Mile High Stadium as he was the past few years at Levi's Stadium. He caught only two passes for 19 yards last week vs. Kansas City. He only played nine snaps the week before that in Indianapolis.
Manning tried to look Davis' way on the first play of the game. That ball was underthrown and intercepted, and the tight end had to wait two hours for his next target.
Davis is now 0-2 with the Broncos. He thinks he can help if they'll give him a shot.
"I want to help this team win," said Davis, who has yet to experience victory with the Broncos. "That's where my focus is at .''