Venus Williams reaches 3rd round at Olympics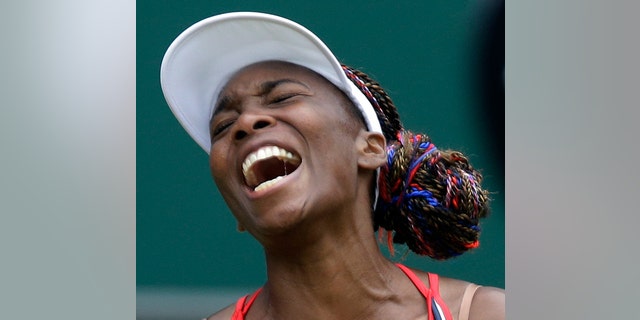 Venus Williams keeps moving forward in the Olympics.
Charging the net with renewed zeal, Williams reached the third round Tuesday by beating Aleksandra Wozniak of Canada 6-1, 6-3.
Playing on her favorite stage -- Centre Court at Wimbledon -- Williams dominated with her aggressiveness, which is what makes her so dangerous on grass. She won 15 of 16 points when she reached the net, and of the points she has won through two rounds, nearly one-third have come when she moved forward.
Williams is also serving well and ripping returns. She broke Wozniak six times in eight games.
"Every day I'm just concentrating on trying to bring my best tennis out," Williams said. "And honestly, if there's a time to do it, it's now."
Williams won her most recent tournament title 2 1/2 years ago, and she took a long layoff after being diagnosed in 2011 with an autoimmune disease that causes fatigue.
But at age 32, she seems rejuvenated by the chance at a record fourth gold medal in Olympic tennis.
"Much improvement in the last few weeks," U.S. coach Mary Joe Fernandez said. "And this is where she feels at home. It's great to be back on the grass."
Williams has won five of her seven major titles at the All England Club, most recently in 2008. Her opponent Wednesday will be No. 7 Angelique Kerber of Germany, who beat Timea Babos of Hungary 6-1, 6-1.
Against Wozniak, Williams took charge by winning eight consecutive games -- which she didn't realize.
"I know I'm in the zone when I don't know the scores," she said. "In the second set, I had to look up and see what the score was. I didn't realize the first set was 6-1. I'm just playing. So that's always a good sign."
With Williams playing so well, the question is: Can she keep it up? She must play every day to reach the final Saturday. Plus she's playing doubles with her sister Serena.
"She can do it," Fernandez said. "She is going to have maybe some days better than others, but so far so good."
A four-time Olympian, Williams won the gold in singles at the 2000 Games and teamed with Serena to take the gold in doubles in 2000 and 2008.