VanZant: When title shot comes, I'll be ready for it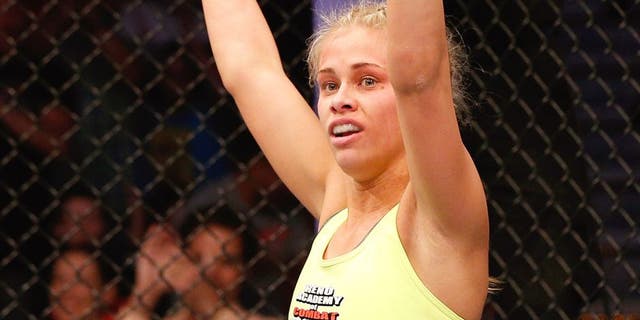 Paige VanZant has pointedly said that she is in no rush to target strawweight champion Joanna Jedrzejczyk. Instead, the 21 year-old wants to focus on developing her skills in a measured way, while she gains experience.
However, after winning her third straight UFC fight Saturday in Las Vegas, VanZant finds herself solidly in the division's top 10, with a fast-rising star. At the UFC 191 post-event news conference, president Dana White seemed to suggest that VanZant's own success has put her on a fast track.
"She has all the attributes of a little rock star, man," White said. "She's got a great personality, she's absolutely relentless when she fights. She moves forward, she puts Mighty Mouse-type pressure on fighters, and [Friday] she was the most searched fighter on UFC.com. People love her.
"She's got it, man. She's got to put in the hard work and keep her head together. When you ask, 'Do you take it easy with her?' She's ranked number seven and she's dominating. It's hard to hold somebody back like that. When she fights you see that she's definitely green and young but she's relentless, she's scrappy, and she wins."
So, it would appear as though the Team Alpha Male member could see a title shot if she continues to win, sooner than she'd originally planned. Should that happen, "12-Gauge" told FOX Sports that she certainly wouldn't shrink from the opportunity.
"When the title shot is there for me, I definitely will be ready for it," she said at the MGM Grand, after her UFC 191 submission win over Alex Chambers.
"Of course I'm not going to rush anything. This is my time in the UFC, this is my career, and I want to enjoy every second of it. It is such a blessing to be a part of the UFC so I'm going to enjoy every second.
"Of course, I'm going to listen to the UFC. Whatever they think is the next step for me, I'm going to listen to them."